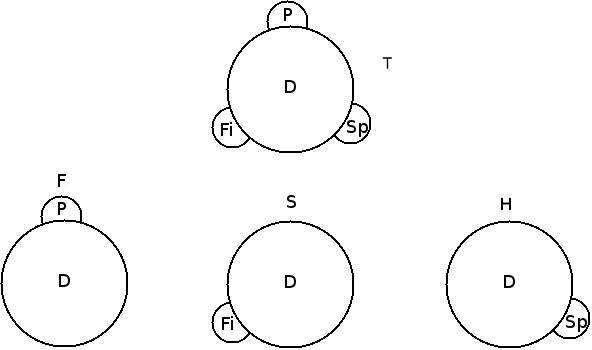 Let's try this again.
Here's a second application for my Latin Trinity chart (see the first post for what the letters designate). Let's say that a state of affairs is a thing/substance having a property at a time or timelessly.
The "persons" here are just modes of D, that is, states of affairs involving D. So the Son just is D having Fi. And the Father just is D having P. And the Holy Spirit just is D having Sp. Regarding each of F, S, and H, each of them "just is" D – in the sense that in each of them, there is one and the same D. Similarly, T "just is" D – that is, it is just the state of affairs of D eternally having Fi, Sp, and P. How many things / substances are here? Just one – D. How many states of affairs? Three plus a fourth which is just the sum of the three (the Trinity). So of the Trinity, and of F, S, and, H – each of these (states of affairs) "just is God" in that there's no other thing involved – only D. The persons are distinct (modes) and so not "confused". Again, there really is a threesome there – the threeness isn't an illusion, and isn't only relative to our thoughts or perceptions of D. D really is a constituent of – the only substantial constituent of – those states of affairs (F, S, H, T).
Does this pass the tests of orthodoxy? Arguably, yes.
Are each of the persons "fully and equally divine"? Yep – each is as divine as anything is, as each has D as component
Are F, S, and H homoousias (same substance or essence)? They are, for they equally share D.
Are there three distinct "persons"? Yes – F, S, and H are most assuredly distinct (non-identical).
Is there but one God? Yes – T is the one God.
Are the persons individuated by only the their unique relational properties (P, Fi, and Sp)? Yes – those are all that distinguist one from another.
Is this compatible with divine simplicity? If the doctrine of divine simplicity says there are no distinct components or properties in the divine nature/essence (D), then yes – nothing in the chart requires any complexity in D. T is complex, of course – but what else do you expect, when it is the case that there are three "persons" in the one God.
T really is composed of F, S, and H – those are not merely ways that T appears. Further, it is plausible that those three states of affairs are essential to T, in that T couldn't exist without them.
Finally, is this a variety of modalism? Yes – specifically, eternally – concurrent, noumenal FSH modalism. Tentative conclusion: you may be a modalist of this sort and an orthodox trinitarian, as those in the "Latin" tradition view orthodoxy.