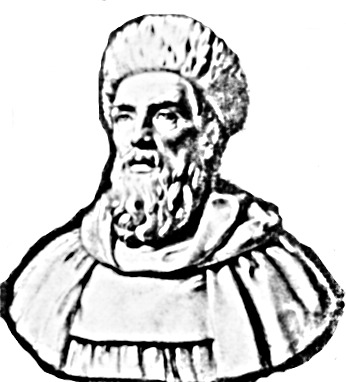 "Stand aside, puny moderns. Or postmoderns. Or whatever you are."
I thought that Scott and Joseph made some really penetrating comments on the first two posts in this series. Here I want to recap them, so we can discuss how Henry of Ghent (c. 1217-93) a.k.a. The Solemn Doctor would interpret our chart (see the first two posts), specifically, the second, modalistic interpretation I offered.
First, Joseph comes in with some weighty objections to that model (summarized and expanded by me from his comments).
The one God ought to be not T (which is a state of affairs but not a substance) but rather D, which is a divine substance.
F, H, and S are supposed to be divine persons, and yet the model wrongly represents them as mere states of affairs. And Joseph urges, "The state of affairs of my being a person is not a person", and this would seem true of all persons, divine ones included.
And if you suppose that T is a god, just because it is a state of affairs with D is a component substance, then why are not F, S, and H, resulting in 4 gods. Even worse, why not F + H (i.e. D's having P and Sp), F + S, and S + H? That's bring us up to seven gods.
If you try to get around problem #3, by denying there is a state of affairs F + H (etc.) then this simply seems untrue, but worse, then why would F + S + H be a state of affairs (i.e. that state of affairs which is T, the Trinity).
And finally, Joseph urges that the model makes D the subject of incompatible properties. D is supposed to have P (paternity) and Fi (filiation). But nothing can have both. Joseph doesn't quite say why, but here's a stab at it – to have P is to be ungenerated, while having Fi involves being (eternally) generated. But nothing can be both generated and ungenerated.
Then, Scott and his master The Solemn Doctor reply (again, summarized by me):
The conjunction of D, P, Fi, and Sp enjoy per se unity. That is why they form a substance/thing, that thing which is identical to the one God, namely T.
F (etc.) is a divine person, and not a mere state of affairs, because D and P enjoy per se unity. Further, this unity enjoys both will and intellect, and that is sufficient for personhood, so there ought be no worry that we're trying to pass of an impersonal abstraction or event as a person.
There's only one God pictured in our chart (as interpreted by Henry), because there's only one divine substance, D. The Son and the Father are one god because they share D. And each is the same god as the Trinity, again because both share D.
In light of our reply to 3, Joseph's 4th objection doesn't apply to us.
P and Fi are not incompatible. D having these involves D in having an active power (to generate), and a passive power (to be generated). All actions involve a thing with a passive, and a thing with an active power, and sometimes one entity is the subject of both.
A couple of comments and objections, by way of refereeing & getting Scott (and Henry) to say more:
The notion of a per se unity is doing a lot of work here, or at least appears to be! Is this supposed to be a way of setting apart sums of properties which do, and those which don't constitute a substance (entity, subject of properties)? Or is it a way of saying when a state of affairs counts as a substance/entity? Scott, what else can you say about this concept, to show that this isn't merely a verbal solution?
The 3rd answer supposes that we ought to count gods by how many divine essences there are. For any x and y, if they share the same divine essence (and there's only one, D), then they are one god. This, I suppose, is contentious. If x is a god, and y is a god, and x and y are not identical, then don't we have two gods? Aren't we just stipulating an arbitrary language rule if we say that this x and y "ought to be" counted as one god?
Third, on this model, which thing is identical to God? I take it, it is T. What sort of thing is T? It's not a divine person. And it's not a divine essence. So… what on earth is T, according to Henry? Saying there is one God, which is neither a person nor a divine being is a real head-scratcher.
Scott – please email me if you'd like to hit these in a guest post.
Technorati Tags: Henry of Ghent, Latin Trinity, modalism, per se unity, monotheism, polytheism, latin trinitarian