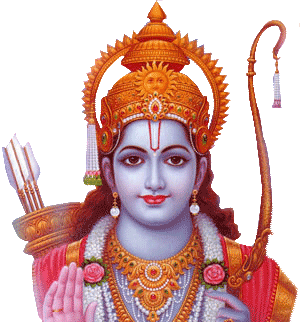 For those who enjoyed my previous posts (here and here) on avatars in Hinduism, here's something I've done recently for a class I'm teaching – excerpts of the long (78 part!) ultra-hit Indian tv series Ramayan into movie form. (Here's the whole series.) Yes, I watched the whole thing, over a couple of months, so you don't have to. Grab some popcorn and check it out. My notes in the comment below will help you to bridge the plot-gaps.
This doesn't directly have to do with Christian theology. My interest here was to illustrate the Hindu tradition for my students, specifically a popular, present-day, devotional Vaishnavite form.
Still, one can fruitfully apply philosophical analysis and comparison with Christian theology here:
What's presented here, despite appearances, is supposed to ultimately be monotheism. The one god is Vishnu, and the other gods and goddesses are just manifestations of him, him acting in different forms. This is clear when at one point the three functions of creation, preservation, and destruction are assigned to Vishnu. It's modalism on a massive scale.
The series asserts the primacy of Vishnu, even while bending over backwards to exalt Shiva as a great god and proper object of worship (and also the Great Goddess). He's a perfect self, omnipotent, omniscient, omnipresent, a se.
Ram (aka Rama, pictured here – but in the movie, he's not blue) is Vishnu's manifestation as a human being, Vishnu incarnate, or in their terms, a descent (avatar) of Vishnu. The screenplay reflects the tensions in the various versions of the Ramayan – Does Ram know that he's Vishnu? Is he merely feigning ignorance? Why does he keep saying he's just a man? Is he in the end a real human being, or does he only appear to be one? Or does this not matter, since at bottom in some sense everything is Vishnu/Brahman?
The screenplay repeatedly says that Vishnu and his descent as a man, are unfathomable, mysterious, beyond logic, etc.
At the end, the movie presents Ram as the one god, the one ultimate being, of which the rest of the Hindu pantheon is a manifestation. (I'm talking about the worship song scene were Ram appears in the middle of a bunch of faces and bodies lined up all together.) But that's because Ram is supposed to be numerically identical to Vishnu – they are one and the same.
There are even parts of the series, not included here, in which Vishnu and Shiva seem to enjoy what some Christians call "perichoresis" or perfect fellowship; they worship each other, and dwell in the hearts of one another.
The third member of the Trimurti (aka the "Hindu Trinity") Brahma gets short shrift, like the Holy Spirit. While Brahma appears in a number of scenes (floating on a big pink lotus flower), he isn't really worshiped, at least, not like Vishnu and Shiva are. At any rate, he's presented as a manifestation of or attribute of Ram/Vishnu. This reflects the practice of Hinduism – my understanding is that Brahma as such (as opposed to as a member of the Trimurti) is not really a focus of devotion there.
Ram is very much meant as a model of human behavior, an ideal human being, the way that Christians view Jesus. In many or most cases, Christians would agree with Hindus that his behavior in the Ramayana is indeed virtuous, though there would be some disagreements in the areas of filial piety, honor, and idolatry.
As with Calvinism, here one is saved by grace, through faith. Note the ultimate fate of the villian Ravan here.
No, this doesn't include anything from the 39-part 1989 follow-up series. I believe this features Ram un-descending back into Vishnu, but I haven't gotten around to watching that one yet.