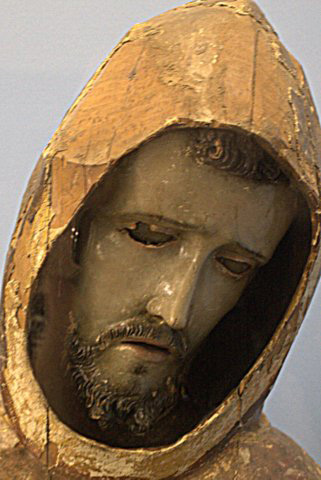 Pictured here is Giovanni Francesco di Bernardone (a.k.a. St. Francis of Assisi, d. 1226 ) – my photo of a 19th c. statue from southern Arizona, probably well worn from processions and general fondling. I understand that he started, or at least popularized the building of manger scenes.
I remember reading his early biographies some years ago. I never could decide what to think: whether he was extremely holy, mentally ill, or both. Once a well known Christian philosopher who works in medieval philosophy described St. Francis to me as "a stinker" – I think the meaning was a sort of drama queen or manipulator. So that's another option.

But I remain perplexed.
Went to a Christmas eve service tonight. At one point the pastor said that the incarnation – that God became a human being – makes no sense to us, yet at some level we – i.e. all we Christians – believe it. If I were less tired, or in a different mood, this would induce a whole series of rants/lectures from me. But, not tonight. I will just say: I am grateful that God sent us his only Son, the perfect representation of him and sure way to him.
After the jump: another pic taken at the same place as the Francis pic. This time, someone indisputably both holy and sane, also celebrated Catholic-style. Merry Christmas!