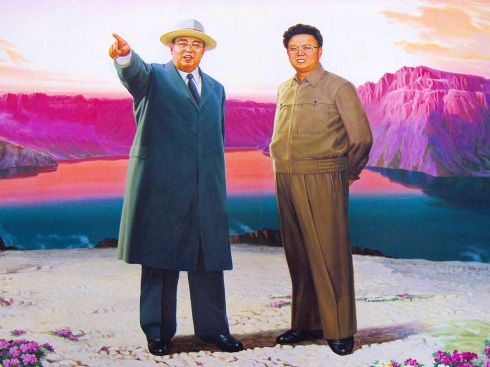 The news came by state radio, state newspaper, and state television. Great Leader Kim Il-Sung had make a startling announcement.
Hereforth, my beloved son Kim Jong-Il is also your Leader.
What did it mean?
"They are really one Leader" said Jun-suh. Look at their portraits. Are they not one man, photographed slightly differently?
"No," argued Seo-yun; Kim Jong-Il is the son of Great Leader.
"Well, that would make him also a Great Leader, wouldn't it?" And we all know that there is just Great Leader. We have been taught this all our lives.
Seo-yun countered, raising an eyebrow, "One can't be one's own son…"  She paused to let the point sink in.
But Jun-suh was unmoved. He pressed his case. "The Great Leader is one. This goes without saying. Our love and loyalty are for him, and him alone. It is him alone we praise at our festivals."
"Wait… I was at that recent rally… the Great Leader and his son our Leader were both there!"
Jun-suh stared blankly. "Well of course they were both there. They are both Great Leader."
"But you don't understand, Jun-suh. I could just see that they are two Leaders, not one."
"Great Leader is beyond our comprehension. Let us not forget that he walked at three weeks old and talked at eight weeks. And during his three years at Kim Il-sung University he wrote 1,500 books and six great operas. And we both know Great Leader has no need of bathrooms. So this is no ordinary man. Don't limit him."
"I'm not limiting him – you are, when you insist that he can't make his own son share in his rule and in his honor."
"No, you're limiting him."
"Whatever. But, mustn't we do as he tells us?"
"Always."
"But he has just told us to honor his son alongside him."
"No, he's told us to honor his son as him."
"That not what he said – you heard it!"
"That must be what he said! Do you not recall what he told us long ago?"
I am your Great Leader, your only Leader. You must follow only me, honor only me.
"But now he says to honor his son too."
But Jun-suh would not be persuaded. There can only be one Great Leader, and surely he would never share his glory or power with another.