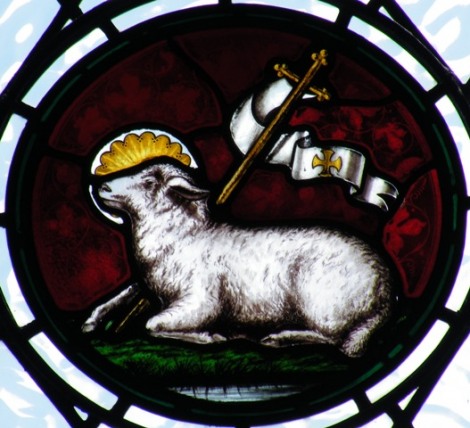 When discussing Revelation 4-5 earlier in this series, I looked backwards and forwards through the book, to get a comprehensive view of this author's theology and christology.
But I overlooked something, namely this interesting little tidbit, in another throne room scene, in an interlude between some smiting.
And I saw what appeared to be a sea of glass mingled with fire—and also those who had conquered the beast and its image and the number of its name, standing beside the sea of glass with harps of God in their hands. And they sing the song of Moses, the servant of God, and the song of the Lamb, saying "Great and amazing are your deeds, O Lord God the Almighty! Just and true are your ways, O King of the nations! Who will not fear, O Lord, and glorify your name? For you alone are holy. All nations will come and worship you, for your righteous acts have been revealed." (Rev 15: 2-4, ESV, emphasis added)
Song of the Lamb? Why is that there? Elements of the quoted hymn echo famous Old Testament passages in which Moses praises God for his deliverance. It could be that the first part is supposed to be Moses's song, the second part the Lamb's song. Or maybe it is one song which belongs to both.
In any case, even though in a previous scene Jesus received worship alongside God, here, although he's not directly in view, he seems to be on the side of the worshipers. This song, or part of it, is his song, his song sung in praise of Yahweh, the Almighty (a term never used of Jesus, by the way).
Most commenters skate right past this detail. It was drawn to my attention by G.W. Burnap:
Now, if the Lamb were a Person of the Trinity, would he not rather be placed as a person worshipped, instead of a person worshipping? Is not his being left out of Deity, and associated with Moses, sufficient evidence that the writer did not consider him as God in any sense? (Expository Lectures on the Principal Passages of the Scriptures which relate to the Doctrine of the Trinity, p. 138)
This last part is going too far, I would say, and putting too much weight on a little detail. But it is interesting that Jesus is assumed here to be worshiper of the one true God, which of course he was, and is.  Burnap does have the big picture right:
Christ is represented [in Revelation]  as reigning, but it is only under God, as the supreme Sovereign, and by his power and appointment. (p. 138)
Could it be the Lamb's song, say, given the the saints to sing, but not one which the Lamb sung? It is possible.  But the parallel with Moses suggests otherwise.