A story about implicit faith…
Once upon a time, there was a virtuous and patriotic Russian peasant named Georgy. Georgy lived a simple life among simple people, in a village so far out in the boondocks of the USSR that World War II – what Russians call the Great Patriotic War – passed by practically unnoticed. The farming life had treated Georgy and his family well, and he had only good thoughts towards the great leader of his country, Comrade Stalin.
After a particularly vicious and thorough purge, Stalin's government found itself in need of new secret police agents. Being vigorous, patriotic, single, and malleable, one of Stalin's recruiters focused on Georgy. (He overlooked Georgy's moral goodness.) Hearing about this exciting and rewarding career, Georgy was strongly inclined to make the deal.
Georgy's friend Artem, however, was more cautious. "Georgy – are you sure this is a good idea? I mean, you'll be expected to do,say and believe a lot of things you haven't yet imagined."
"Sure – well, that's the excitement of it. What's there to worry about? I love the Motherland. So does Uncle Joe."
"Well, Georgy, are you a communist?"
"What's that?"
After a stunned silence, Artem continued. "Georgy, do you believe in the collective ownership of the means of production?"
"If Uncle Joe is in favor of that, then so am I. I'm quite into collecting myself. Stamps, for instance."
"Georgy, that's a very, um, loyal and patriotic attitude, but how can you be sure that when you find out all of Comrade Stalin's policies, you'll agree with them, or at least be willing to carry them out? I mean, saying that you'll do this when you find out about them is one thing, wanting that to happen is another, but really being inclined that way is another. How do you know you actually are inclined that way, my friend?"
"My dear Artem, I have implicit faith in Uncle Joe, and in all he stands for. I believe whatever he does."
"But how do you know that you won't disagree, or just not agree, when you find out in detail what our Comrade Leader believes?"
"I just do. I just love Uncle that much."
"What if he tells you that the sky is green?"
"He wouldn't do that."
"But if he did, Georgy, would you believe him?"
"No."
"But for all you know, he believes it, Georgy. If so, you don't believe everything Uncle Joe does, though you say you do, and you wish you did."
"That's exactly what I do wish. I'm going to sign up now." And he did.
Being as morally upright as he was uninformed, Georgy's career in Stalin's secret police was brief, although he went out "with a bang".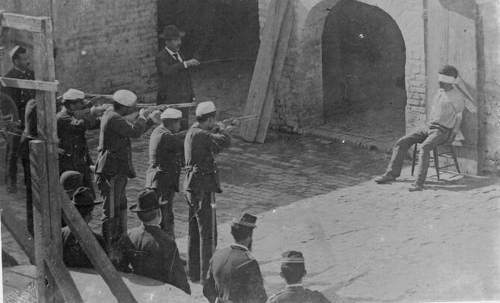 Technorati Tags: implicit faith, faith, explicit faith, 4 R's