Jun-suh had heard rumors that both Kim Il-Sung and then later Kim Jong-Il had died. Jun-suh reasoned that since the Great Leader could not die, some foolish people must have mistaken the economic Leader (Leader as manifested to North Koreans, i.e. Kim Jong-un) for the immanent Leader (which is incomprehensibly great). In himself, he is one Leader but is three men. He has manifested himself as such, and we can trust that the economic Leader is the immanent Leader, and vice-versa. He remembered reading this somewhere, and was firmly convinced of it.
His Leaderology was now highly developed. But his friend Seo-yun made one last try to convince him that it was all wrong-headed.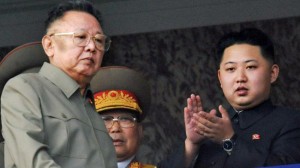 She asked, "Jun-suh, what do you think a Leader is? Don't you know
that any Leader just is some man or other? So if Kim Jong-un and Kim Jong-il are the same Leader, then obviously they are the same man too. But they are not the same man. Remember that time when we saw them sitting side by side a couple of years ago, at the parade? We know they're not the same man, so then they're not the same Leader!" She rested her case, confident of victory.
Jun-su replied, "When will you learn that your puny mind can't contain the greatness of our Dear Leader? Your principle (one man per leader) works for leaders, like a factory boss or mayor, but not for the Leader. He contains more than one man. Where did you learn that you can comprehend everything? Who you you think you are, a Leader yourself? This talk sounds very count-revolutionary, and I suggest to you that it is dangerous to continue. As your friend, I must warn you."
After that, she left him to develop his Leaderology in peace.