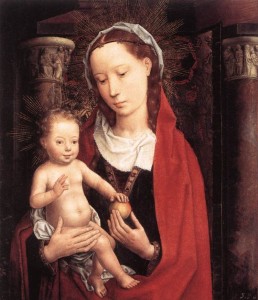 Let's pretend that this shows Jesus at the age of 3 months. Does the New Testament teach that no more than 12 months before, Jesus came into existence (for the first time), that is, in philosopher's lingo, that he was generated?
Sir Anthony Buzzard has argued that the New Testament teaches exactly that, and explicitly so. There's been a boiling discussion of this argument by our intrepid commenters on this post.
I think this issue deserves some posts. In the past I've never been sure I've quite understood his argument, and so have never taken a position on it. I'm going to think through it in this series of posts.
Let us first note that the truth and reasonableness of this humanitarian unitarian christology doesn't stand or fall with this exegetical argument. There may be other textual, theological, or philosophical reasons to hold that Christ did not exist before his human life, i.e. before his conception. It is clear to me, in fact, that this argument is not Sir Anthony's only reason for this view. (See e.g. comment #2 in the discussion linked above.)
Second, let's note that it is a very strong or bold argument. Mr. Buzzard is arguing not simply that this christology best explains the texts, or that it is implicit in them, or that the authors assumed it, but rather that certain texts explicitly assert that Jesus came into existence a little over 2000 years ago.
Third, Sir Anthony's first training and first scholarly love was languages, and he sometimes will present things as the text simply saying whatever his final exegesis is, but when you dig deeper, you see that the interpretation in question is actually built on complex reasoning, reasoning which he does not always patiently lay out for you.
In his 2007 book Jesus was Not a Trinitarian, he says,
Church creeds deny that the Son of God had a beginning of existence! Luke and Matthew say emphatically that he did. (p. 209)
Where?  Matthew 1.
But when you read Matthew 1, this is not obvious. Picking up Matthew, we find a geneology going back to Abraham, and the a very succinct assertion of virgin birth:
…an angel of the Lord appeared to him in a dream, saying, "Joseph, son of David, do not fear to take Mary as your wife, for that which is conceived in her is from the Holy Spirit. Matthew 1:20, ESV
Sir Anthony reads Matthew as telling us about the coming into existence of the Son, rather than just about the Son's genealogy, conception, and birth. The word most often translated as "conceived" here, he says means coming into existence.
But why take it that way, we should ask?  It seems to me that considered alone, the text of Matthew isn't that specific. Yes, it teaches that Jesus is the Son of Mary (v. 16, 18) and God (v.18,  20) But isn't this, by itself, logically consistent with Jesus having already existed in some non-human form? Subordinationists – yes, inspired by Philonic speculations – have always thought that either eternally, or some time long ago, the Son originated from God, only later to become human. Isn't this speculation consistent with the letter of the text?
In a passage Buzzard quotes James Dunn saying that
…Matthew presumably understands this as Jesus' origin, as the begetting (=becoming) of Jesus to be God's Son… (Christology in the Making, p. 50, original emphases)
Presumably? Why presume that? Because, according to Dunn, nothing of pre-human-existence is mentioned. 
Unstated assumption:  if the author of Matthew believed in a pre-human Son which only entered into a zygote or fetus at some point, then he would have said something to indicate this. But no – there's just this genealogy going back to Abraham, culminating in a miraculous conception – Mary became pregnant not in the normal way, but by the operation of God's spirit. Thus, the author of Matthew didn't believe in a pre-human Son. This is indisputably a valid argument, but is not indisputably sound, because it is not obviously true that if the author believed in a pre-conception existence for Jesus, then he would have said so.
That doesn't mean we should not accept the argument as sound, of course. We reasonably accept countless arguments as sound even though we are not absolutely certain that one or more premises is true. We'll return to this in a later post.
Next post: "eternal generation"?