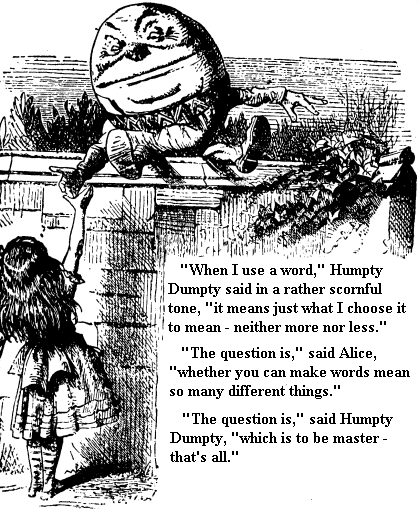 Buzzard complains at length about Platonizing "fathers" insisting that the New Testament teaches the "eternal generation" of the Son, citing the Lewis Carrol passage here. (pp. 260ff) I think he's right to do so; the exegetical crimes of the "fathers" are legion. But in the end, I think Buzzard goes a bit too far.
The "word 'beget'," he says, "is deprived of its actual meaning." (p. 260) A page later:
The word "beget" had a perfectly easy meaning: to originate, to procreate, to cause to come into existence." (p. 261)
I would say: let's be careful here. If I understand correctly, the core meaning of the verb gennao is to become the parent of a child, to procreate, whether as father or mother.
Does this necessarily imply bringing into existence? Arguably not. If it did, then a sentence like this would be a self-contradiction (like married bachelor, square circle, or Jewish pope): "Sarah and Abraham begat Isaac, and when they did, Isaac's soul moved from heaven down into Sarah's womb." Who would say such a thing? Well, a bloke like Origen, who believed in the pre-human-existence of all humans (i.e. their rational souls). And what if, for reasons known only to him, God first created Isaac's soul, and then, say, five years later made those of Sarah and Abe. And later, Sarah and Abe beget (become the parents of) Isaac. Here, the one begotten would be older than the ones who begot him.
Now I'm not telling you to believe these things, or that the scriptures teach them. Rather, my sole point is that these scenarios are not obviously self-contradictory. And so begetting isn't by definition causing to come into existence. It could, though, actually imply that – but this is a controversial thesis, not a matter that dictionary-makers can settle.
Here's an comparable case. In my philosophy classes, every so often we discuss the possibilities for life after death. Usually one student in the class will pipe up that "death" just means ceasing to exist. I reply, surely not, otherwise it would be a contradiction to suppose that someone is dead, yet still exists – say, in heaven enjoying the presence of God, or transmitting messages to a medium. But there is no discernible contradiction in those scenarios. To be dead is to have biologically died. This uncontroversially involves assuming room temperature, ceasing to breathe, one's heart stopping, the cessation of brain activity, the cessation of any bodily activity. To die to to undergo all of that. Now if a human being just is a living biological organism or a certain highly organized physical object, then perhaps to be all the way, irretrievably dead, is to have ceased to exist. This is what all naturalists hold (roughly: atheists who believe that all there is is what a perfect science would describe). Interestingly, some Christians hold this too; some Christians, and even some prominent Christian philosophers like Peter van Inwagen and Trenton Merricks, are materialists about human beings. A materialist needn't necessarily hold that dying is ceasing to exist – it depends which physical object a human self is! But if the human self is the big, macro-object that weighs 200 lbs. (or whatever) and which functions in a certain way, then if that's what you are, dying is (or soon leads to) ceasing to exist. But consider a naturalist who thinks that a human self just is a certain living animal. When he says that, e.g. Carl Sagan has died, he is assuming that Sagan thereby ceased to exist. But "death" has a common meaning, and even though, in this naturalist's view, death implies ceasing to exist, arguably the word doesn't mean that, even when he uses it. In sum, it is a philosophical question whether or not to die is to cease to exist, but all sides should agree on the meaning of the word "death"
As Buzzard notes, the term gennao is used far outside of the context of biological procreation. One may become a parent via adoption, as he notes. (pp. 260-1, n. 14) But then, he should not say that "one who is begotten is by definition not as old as the one who begets him." (p. 261, n. 14) To the contrary: suppose a mentally handicapped person in is 80s is legally adopted by a couple in their 30s. This scenario involves no contradiction, and so, what Buzzard says here is mistaken, in my view.
But does it hold if we stick to literal, not merely legal begetting? Not obviously – given the Abe/Sarah/Isaac scenario above.
I would have to deny, then, then gennao, even in a biological context, obviously implies a bringing into existence. Likewise, I disagree when he says that
To "beget" means in English to bring into existence, to cause to come into existence. (p. 209)
I conclude that Mr. Buzzard argues too aggressively, from an alleged definition of a word.
But there is a better way – next post.