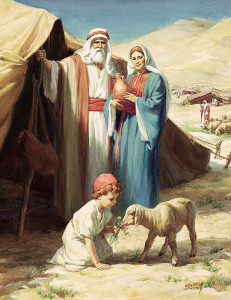 Do you think that you pre-existed your conception?
Me neither.
True, there are cultures which pre-suppose this. But most of the human race, including ancient Jews, assumes that getting parented involves getting brought into existence some time between the sexual union and birth. You, the younger human being, exist because of what your parents did. This, I suggest,  is the default human assumption. You exist because of them.
Abe and Sarah did what married folk do. Because of this (with some sort of miraculous fertility assist from God) Isaac came to exist. When? Opinions vary as to the exact time, but certainly before birth, and  no earlier than union of sperm and egg – that's what most of us think.
So Matthew and Luke don't mention any pre-human existence for Jesus. They do assert that he's the human son of Mary who was "begotten" – seemingly, conceived (as most translations have it) by the power of God. And as Buzzard emphasizes, for this reason, the angel says, the child will be called the Son of God.
What? Isn't he called that because he has the divine nature, because he is one essence with the Father? Well, that's not what it says. Would Luke have said it somewhere if he'd believed it? We would think so. So, this is a problem for the theological heirs of the fourth century catholic "fathers". But it is not, on the face of it, a problem for humanitarian unitarians.
The elephants in the room, of course, are Paul and John 1 – don't they assert Jesus' pre-human-existence? And wasn't there a consistent apostolic message? Some theologians happily jettison this latter assumption, by the way. But as long as we expect the New Testament to be self-consistent, at least on important things, then one wants Matthew and Luke to fit with John and Paul.
Sir Anthony has done plenty of thinking about John and Paul. But we will not settle the dispute between subordinationist and humanitarian unitarians here. I think that the former are justified in thinking that their christology is strictly consistent with the letter of the text. They can say that John and Paul simply teach more than Matthew and Luke, concerning the temporal extent of Jesus' life, and his being God's instrument of creation. It would be mighty strange, though, if Matthew and Luke believed in the pre-human existence of Jesus, but tell the back-story in the ways that they do.
Next time – what is a human being anyway?