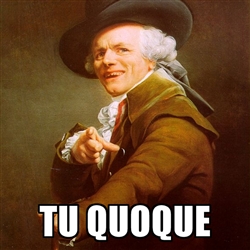 "You're another" – that's what tu quoque means – it's the name of an informal fallacy, often called a fallacy of relevance. For example, if I argue that your theory is self-contradictory, suppose you retort that my theory is too. Well, so…? It's irrelevant to the point that the first theory mentioned is self-contradictory (so, self-refuting).
Cornell grad student Chad McIntosh argues that if the social trinitarian God – or rather: the three divine persons  posited by clear "social" Trinity theories – would be deceivers, then so would the perfect self in whom I believe, being a unitarian Christian. So granting that an ST is implausible, for similar reasons unitarian Christian theology is implausible (because it has a perfect being doing what appears a wrongful deception).
Is this a defense of ST?
I've already argued in that paper than a Swinburne-type ST implies what looks like wrongful deception by at least one of the three divine persons. This hasn't been disputed.
I don't grant that if God is a single self, then he's carried out an apparently wrongful deception. What does Chad think this follows? Here's what he says:
…his God is not clearly off the hook: by letting the doctrine of the Trinity define orthodox Christian belief from its very inception (from the earliest Patristic interpreters of the NT to being enshrined in the creeds), is not Tuggy's Unitarian God guilty of passing Himself off as three personal beings, while in fact He is one personal being?
My reply to this is that it is factually mistaken. We know of no pre-Constantinople catholic thinker who believes in a triune or tripersonal God. Throughout the first three centuries, the one true God of the Bible is clearly identified with the Father of Jesus (just as in the NT), and the waters only gradually get muddied by speculations that Jesus and later the Holy Spirit are "one essence" with the Father, that it was really a pre-human Jesus doing all that Old Testament stuff, and that to make us all divine Jesus must've been divine, etc. At the end of this process, some time in the middle ages, when people start to talk of the whole Trinity as the one God, we get something that'd be counted as clearly trinitarian. In short – and this is where theologians are often confused – believing that Jesus and the Holy Spirit are in some sense divine does not make one a trinitarian. People like Justin and Origen, who plainly identify the Father (and no one else) with the one God, and who plainly give the Son a lesser status, nonetheless did think that Jesus was in a sense divine, and could be addressed as "God," and described as a god.
Secondly, at most, God has (in my view) allowed various forms of Trinity speculations to flourish – no, not from the beginning, but yes, for a very long time now. Of course, I don't know why. But, not being either Roman Catholic or Eastern Orthodox, I put this in a group of other longstanding errors besetting the catholic movement, such as belief in the authority of Bishops, or prayers directed to Mary or saints, or image honoring, etc. This does bother me, but I don't see that it adds much to what I'm already committed to as a non-Catholic and non-Orthodox Christian.
Third, there's no reason to think that God has been "suppressing belief about His true nature." It hasn't been God persecuting the unitarians, at various times in church history. It's rather Christians behaving badly, following the bad precedents established in the late 4th c.
It's interesting that he tries to pin a commitment to abrogration on me (basically: God asserts P at one time, and not-P at a later time). In an unpublished paper which I'm off and on working on, I argue that it is the ST folks who are stuck with that, instead of with progressive revelation (wherein it's unclear earlier whether or not P – perhaps not-P seems assumed or suggested, but then later God reveals that P). In this scheme, there's no strict contradiction between the two revelations, between the two assertions by God. Like most Christians, I want to commit only to that.
If one is the clear, up front sort of "social" trinitarian (e.g. Swinburne) like I'm aiming at in my "Divine Deception" paper, then one should be worried about contradiction: earlier revelation has God as a perfect self, and later (according to ST) as not a self at all.
Chad engages in a bit of special pleading here: "it is arguably consistent with monotheism that God is more than one person."
That "is" covers a multitude of (theoretical) sins.

I invite him to say how he understands it. Only then can one judge whether or not it's consistent with monotheism, and whether or not it forces one into claiming abrogation. Indeed, only then can we judge whether or not God really has long established this as (near) universal Christian belief.