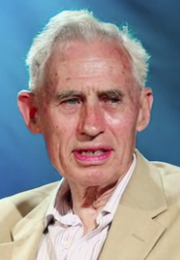 Here's a gem of a passage from a little-read paper by Richard Swinburne, from this book.
This is part of talk he gave at a 2001 conference in Moscow, Russia, co-sponsored by the Society of Christian Philosophers and the Russian Orthodox church. So he's explaining the wider context of analytic philosophy to them.
Sometimes, when we have to explain things to those outside the camp, we are forced to pare things down to essential points, and Swinburne does that beautifully here.
Over the past sixty years there have been two very different streams of "Western philosophy." The stream which we call "continental philosophy" is philosophy as it has been practised in France and Germany and many countries of continental Europe, including both pre-Revolutionary and Marxist Russia. It has roots in Hegel, Husserl, Heidegger, Nietzsche, and Kierkegaard. Very different though these philosophers are from each other, they have given rise to a kind of philosophy which has a certain common terminology and unity of approach to philosophical problems. Contemporary continental philosophers paint very vague and general pictures of the world. Their writings are more like literature than science. It was from the continental stream and especially, I guess, from the work of Heidegger and Nietzsche that the form of scepticism known as post-modernism emerged. The vast majority of contemporary Wester theologians, including Bultmann, Barth, Tillich, and Rahner, and almost all Anglo-American theologians have written under the influence of continental philosophy.

The kind of philosophy which is taught and written in English-speaking countries is called "Anglo-American" or "analytic" philosophy; and this is closer to science than to literature. It has its more remote roots in the British empiricists of the eighteenth century – Locke, Berkeley and Hume. Its more immediate source is the logical positivism of the physicists of the Vienna circle of the 1920s, which was widely disseminated in Britain through the publication in 1936 of A.J. Ayers's Language, Truth and Logic, and developed in the U.S.A. though the writings of the logician W.V. O. Quine. (pp. 13-4, emphases added)
He then explains the agonies about the "verification principle" that Ayer propounded and later (correctly!) rejected. Eventually,
…a number of teachers in philosophy faculties in Britain and America (not, I emphasize, theology faculties) who were Christians (both Protestant and Catholic) began to think that the philosophical tradition founded on the physical sciences which contemporaries value so highly, could be our ally and not our enemy. And so working in the spirit of Anglo-American philosophy, some of us saw it as our task to clarify what means to say "God exists," or what the central doctrines of Christianity mean, in such clear and precise words… that even atheists would have to admit that the Christian creed expressed a clear world-view. (p. 15)
There's a lot more to be said about philosophy, and about Christian philosophy, of the last 60 years or so, but this is a good start.