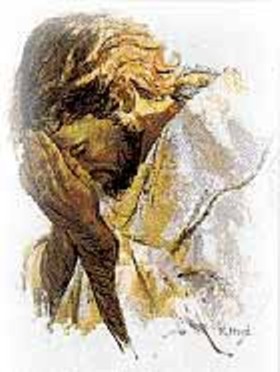 Trinitarian or unitarian?
You decide.
This time, more Irenaeus (d. c. 202). He doesn't say the various odd things many later "fathers" say about this passage!
But, beyond reason inflated [with your own wisdom], ye presumptuously maintain that ye are acquainted with the unspeakable mysteries of God; while even the Lord, the very Son of God, allowed that the Father alone knows the very day and hour of judgment, when He plainly declares, "But of that day and that hour knoweth no man, neither the Son, but the Father only."[Mark 13:32] …the Son was not ashamed to ascribe the knowledge of that day to the Father only…

…if any one should inquire the reason why the Father, who has fellowship with the Son in all things, has been declared by the Lord alone to know the hour and the day [of judgment], he will find at present no more suitable, or becoming, or safe reason than this (since, indeed, the Lord is the only Master), that we may learn through Him that the Father is above all things. For "the Father," says He, "is greater than I." [John 14:28] The Father, therefore, has been declared by our Lord to excel with respect to knowledge; for this reason, that we too, as long as we are connected with the scheme of things in this world, should leave perfect knowledge, and such questions [as have been mentioned], to God, and should not by any chance, while we seek to investigate the sublime nature of the Father, fall into the danger of starting the question whether there is another God above God. Against Heresies II.28.6,8, pp. 401, 402.
Is the Father greater than the Son? (unitarian)
Or is the Son as divine as and as great as the Father? (trinitarian)