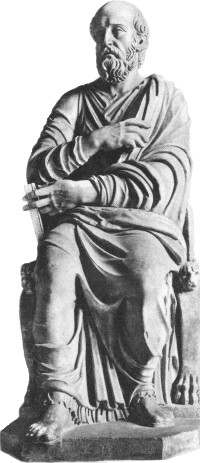 Incredibly, in 1551 they discovered an intact statue of Hippolytus (pictured here). This may exist because he was revered as a martyr shortly after his lifetime.
In the previous post, we saw that in his theology, the divine (but less divine than God) Logos came to exist from God a finite time ago, so that God could create the cosmos by means of him. On two counts, then, this makes him not a trinitarian – that the "persons" are neither co-equal nor equally divine. But is he a unitarian?
In the most important work we have from him, he says,
The first and only (one God), both Creator and Lord of all, had nothing coeval with Himself… Therefore this solitary and supreme Deity, by an exercise of reflection, brought forth the Logos first… Him alone He produced from existing things; for the Father Himself constituted existence, and the being born from Him was the cause of all things that are produced. The Logos was in the Father Himself, bearing the will of His progenitor, and not being unacquainted with the mind of the Father. For simultaneously with His procession from His Progenitor… He has, as a voice in Himself, the ideas conceived in the Father. …when the Father ordered the world to come into existence, the Logos one by one completed *each object of creation, thus pleasing God.   …[God, via the Logos] formed the ruler of all [creation, i.e. Adam]… The Creator did not wish to make him a god, and failed in His aim; nor an angel… but a man. For if He had willed to make thee a god, He could have done so. Thou has the example of the Logos. His [God's] will, however, was, that you should be a man, and He has made thee a man. But if thou art desirous of also becoming a god, obey Him that has created thee… The Logos alone of this God is from God himself; wherefore also the Logos is God, being the substance of God.  (Hippolytus, The Refutation of All Heresies, ch. XXVIII-XXIX, p. 151.)
Who is the one God here? It's the Father.
One can be distracted by the fact that he calls the pre-human Jesus (the Logos) "God". But we see also that he was given that status by God. And God, he says, could have made more such derivative deities – but chose not do. "Having the substance of God" – in his, pre-Nicene usage this is a status one can have by the free choice of God, and not eternally.
Here's how he ends the book:
[Becoming a Christian,] You shall escape the boiling flood of hell's eternal lake of fire… being instructed in a knowledge of the true God. And thou shalt possess an immortal body… And thou shalt receive the kingdom of heaven… And thou shalt be a companion of the Deity, and a co-heir with Christ, no longer enslaved by lusts or passions, and never again wasted by disease. For thou has become God: for whatever sufferings thou didst undergo while being a man, these He gave to thee, because thou wast of mortal mould, but whatever it is consistent with God to impart, these God has promised to bestow upon thee, because thou has been deified, and begotten unto immortality. …Be not therefore inflamed, O ye men, with enmity one towards another, nor hesitate to retrace with all speed your steps. For Christ is the God above all, and He has been arranged to wash away sin from human beings, regenerate the old man. And God called man His likeness from the beginning… And provided thou obeyest His solemn injunctions… thou shalt resemble Him, inasmuch as thou shalt have honour conferred upon thee by Him. For the Deity, (by condescension,) does not diminish aught of the dignity of His divine perfection; having made thee even God unto His glory!     (Hippolytus, Refutation of All Heresies, XXX, p. 153)
This is a dense passage, and translators have disputed over the text and translation of that second to last bolded phrase. But this much is clear. The true God is the Father of Jesus. But the Christian will "become God" (or: "become a god"). He thinks of salvation as deification. God, he thinks, can deify others. But he can't pass on all divine attributes – such as being the ultimate source of all else, and existing independently of all else. It would be a contradiction to suppose properties like those to be passed along, as it were. Really, in his view – though he's not explicit about it – there is a gradation of deities – with the one true God at the top, then the Son, then saved/deified Christians. As creatures, the derive from the Son (and ultimately from the Father). And as Son, Christ derives only from God. God derives from no one. Is Christ, in his view "the God above all"? Yes – above all humans, or above all creatures. But not above the Father, the one God in the highest sense.
This sort of God-talk is quite different than that of the Bible, though not without precedent in it.
The question again, is:
is Hippolytus a trinitarian (the one God contains or consists of three equally divine persons)
or unitarian (the one God is numerically identical to the Father, and not to the Son)?