We've just launched a project that has been a couple of years in the making: the Survey of Trinitarian Belief. It's an attempt to measure how the views of the Christian public do or don't line up with contemporary trinitarian theories, as well as historical theories, and creedal statements.
Anyone can register and take the survey. That's fun and thought-provoking, but that won't give us a valid random sample. So we've decided to focus on an interesting population: seminarians (and anyone else studying theology at the graduate level). This first phase of the survey, which will last the rest of this semester (until the end of May) is an attempt to find out what they think. If there are future phases, maybe we'll do other manageable groups. (Pastors? Students and Christian colleges? Mega-church members?)
To do this, we need professors! We're in the process of spamming contacting hundreds of randomly chosen professors at schools in the US and Canada. What, you haven't received such an email? If you're a professor at a seminary, or if you teach students focusing mainly on Christian theology at the graduate level, and you wish to have your students participate in the survey, please email my research assistant Joel Valvo, at this address:

Email from your academic email address, and provide a link to your academic page, so that we can verify that you're a legit professor, instructor, or tutor, etc. He'll send you the info you need to get started. (Anyone can register and take the survey, but profs need some special info from us in order to register their classes.)
It's very easy for profs to participate – you basically (1) register yourself and your courses, (2) give each class a sheet of directions (which we email you) on how to take our web survey, and (3) check back, and see their (aggregate) answers as they come in, in a neato graphical form (like this).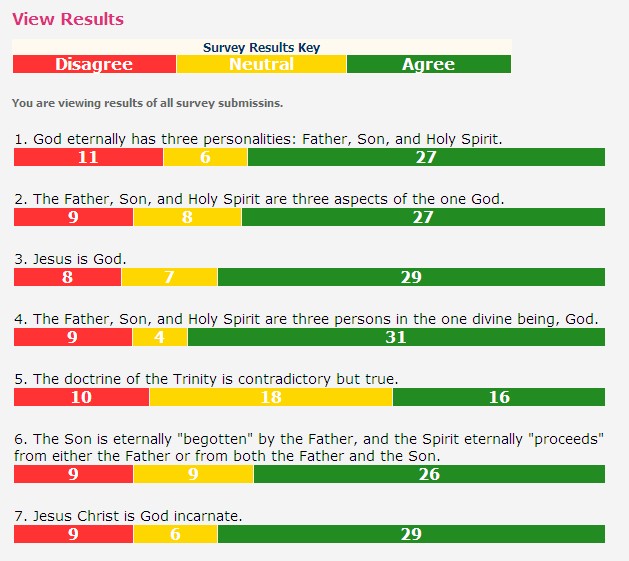 (That's just bogus testing data, by the way.) Anyone who takes the survey can see this data (and they can return at a later date to see it again) and participating profs can see (1) the answers by everyone so for, (2) for all their classes combined, or (3) for each individual class.
It's really neat how it works, and I have to thank my ingenious programmer friend and seminary graduate Mike Gerholdt for making it happen.
We're doing this without any funding – zilcho, nada, nil – so we can't pay people to participate. Thus, we're hoping that people will join in because it is so interesting.
If you want to help us spread the word, the real URL is
http://www.fredoniaportal.com/trinity/Home/tabid/53/Default.aspx
but an easy to remember alias (which takes you to the above URL) is