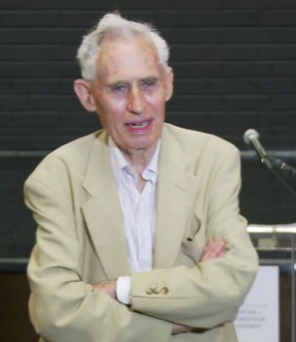 Richard Swinburne was a visiting fellow at Biola University's Center for Christian Thought in the Fall of 2012.
Here are the videos they've posted from that visit.
Interestingly, they seem to have avoided the topic of Swinburne's Trinity theory – at least, judging by the videos they posted. One has to wonder why. Maybe they just wanted to leave room to discuss the soul, about which Swinburne has many plausible arguments. But in general, again, judging by what they've posted, they seem to have avoided areas in which some would think Swinburne to be, as it were, off the (American) evangelical reservation.
In this one, he pretty clearly implies that churches not ruled by bishops in a line traceable to the apostles are not legitimate churches, not continuations of the movement (and he thinks institution) Jesus founded. That would be: most Protestant churches! But the interviewer lets it go.
Again, in this one, Swinburne expounds a view of atonement which I think differs quite a bit from what most American evangelicals think, but the differences are not highlighted.
Here's an exception. Right up front, in the first minute, Swinburne notes that probably most Biola philosophers and theologians will disagree with his thesis, that "God" is what Swinburne calls "a metaphysically necessary" being. (See here for what he means by that.) Be forewarned: this is as arcane as Swinburne gets, and the questioners afterwards are clearly, and understandably, struggling to grasp his meaning and motivations. Here too is the written form, which is forthcoming in the European Journal for Philosophy of Religion.
For my fellow philosophers, here are a few quick thoughts on that paper, to help you understand why Swinburne denies that God (on anything) is a metaphysically necessary being.
Most of us want to say that God, if he exists, must be a metaphysically necessary being – one who can't not exist, whose non-existence is absolutely impossible. Why think this?
Some would say, Continue reading »