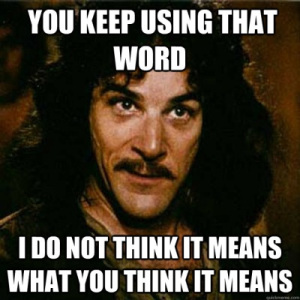 Not "inconceivable" – but rather, "God."
Check out this interesting post, The Dread God Roberts, at our friend Dr. James McGrath's blog Exploring Our Matrix. (Which amazingly, just had its 10th birthday. He was blogging way before it was cool.)  Dr. McGrath describes himself as a Progressive Christian.
I commented over there, and he's replied. The part of his post that got me going was this.
Tillich's emphasis is that God is not a being, one among others but really advanced. If that term means anything less than Being itself, encompassing all of Reality, then the term denotes a god and not God, and our worship is idolatrous.
He mentions this view positively, without quite endorsing it.
To me, this is not a Christian view of God, and isn't even any sort of monotheism. In fact, this type of view has always competed with the monotheisms. Isn't it obvious that the Christian God is a He, not an It? "God" in the Bible has human friends, loves and hates, has knowledge and plans, sent his Son, and wants to be obeyed. James' reply, in part:
The Reality that encompasses every he, she, and it does not necessarily need to be thought of as "it" as opposed to transcending even the appropriateness of such pronouns.
To me, this type of view – and I say this not to abuse, but only to describe – is a kind of atheism. I mean, believing in God (in the context of any Abrahamic religion) is believing in a great and powerful self, the creator of the cosmos, and this this view entails that there is no such being. There is, on this sort of view, which I have called Ultimism, an Ultimate – a reality which is somehow more basic than, and which in some sense lies behind the physical world. But that being is denied to be a self. This is not naturalistic atheism, to be sure (which is what people most often mean by "atheism" nowadays), but it is atheism.
James makes clear, though, that we should go beyond denying that God is a self.
But why posit that the Ultimate is either personal – which quickly gets one into inappropriate anthropomorphism – or impersonal – which suggests that the Ultimate is in fact less than we are? Why not accept that the reality of God must be so far beyond what either of those terms could refer to that we simply cannot grasp the nature of God?
There are a host of interesting questions here, which deserve more than a quick reply. Still, here's the quick reply, as this post has grown long.
We all easily form a concept of a self – roughly, a being with a point of view, knowledge, and will – which needn't be human. An alien, a god, a spirit, a ghost. So, thinking of a God as a self needn't get anywhere near true anthropomorphism (e.g. God is a dude with a beard who lives on a mountain). 
Some abuse this latter term, though, so that we are into "anthropomorphism" if we say God is like humans in any way. But any Christian view must respect the claim of Genesis that humans are made "in God's image and likeness." (And you can accept this, by the way, while taking the Genesis creation story as non-literally as you please.) This entails that we are similar to him. But similarity is reflexive; thus, he's also similar to us. But not in respect of having four limbs, etc. Rather, God is Spirit. The similarities must be mental, ethical, spiritual.
It is dubiously intelligible to claim that there's an ineffable being – one such that none of our concepts applies to it. (Exercise for reader: come up with a concept that'd have to apply to such a being.) But without such a strong claim, what reason would we have to believe that neither self nor not-self apply to God, neither he nor it?
It has become something like an article of faith in some sophisticated theological circles to claim that our talk about God can only be metaphorical (because God is ineffable).
Against that, I recommend the long but well-argued paper "Panmetaphoricism and Abrahamic Religion" by Daniel Howard-Snyder. He brings out just how controversial, and how implausible, the claim is.
Related posts: