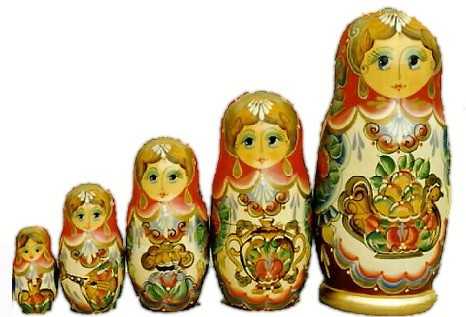 Because you're too busy to read the book, here is Dr. John M.G. Barclay review of Dr. N.T. Wright's enormous Paul and the Faithfulness of God (kindle) in the Scottish Journal of Theology.  (H/T Dr. Denny Burke.)
Below are some choice bits (emphases added). You'll have to read the whole thing to learn why there's a Russian doll here.
…the narrative of the Messiah Jesus, who takes on the role of Israel, where Israel had failed in its task and when sin had used the law to concentrate its force in this one place. As the representative Israelite (and as God himself, 'returning to Zion' in the person of his Son), Jesus fulfils the faithfulness that Israel was unable to accomplish, defeating sin and saving Israel while doing Israel's job of saving the nations, so that those 'in Christ' (that is, in 'the Messiah-and-his people', 17) can gain the virtues necessary to rule the world in the renewed creation.
Comment: "as God himself." Two interpretations:
(1) In other words, Jesus just is God, they are numerically identical. Jesus, being God himself, does various things as God-the-Son.
(2) Jesus and God are not numerically identical – rather, the first represents, acts on behalf of and at the behest of the second. God acts through Jesus; they two agents, primary and secondary.
Have read some of his works (but a small percentage of his many published pages) I have the impression that Dr. Wright means both. :-/ This is an uncharitable reading to be sure, so I hope I can be proved, or prove myself mistaken about this. Is anyone out there aware of any good secondary literature on Wright's theology, on his views on Jesus and God?
Back to Dr. Barclay:
That Jesus 'represents' Israel and fulfils its vocation – a 'central' point that gives everything in Paul a 'tight coherence' (815-16, 823-24, 839) – is more asserted than proved. Arguments from biblical statements about David are advanced with some tentativeness (828-30), and it is admitted that there is nothing in Second Temple Judaism to support the notion that the Messiah incorporates his people (826-27). It can only be deduced from Paul himself – or from an imposition of Wright's schema onto Paul. The purported evidence does not convince.

There are many valuable passages in this book, and its energy, breadth, confidence and ambition are on a scale commensurate with its size. In the history of the discipline few scholars have attempted such an original yet comprehensive construal of Pauline theology…

..the stimulus offered by this book will be lessened, and perhaps cancelled, by its persistently shrill and overheated rhetoric.
On this last, it seems that Dr. Barclay was quite offended at how Dr. Wright interacts, and doesn't interact, with competing views. I can't help but wonder how much of this comes down to having firm, and firmly expressed opinions… But you can see his examples of rhetorical crimes in the review, and judge for yourself.
Related posts: