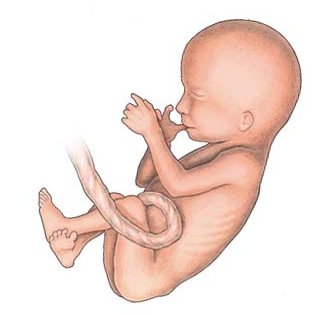 Sam Storms, in a post at Parchment and Pen:
Conception: God became a fertilized egg! An embryo. A fetus. God kicked Mary from within her womb!

Birth: God entered the world as a baby, amid the stench of manure and cobwebs and prickly hay in a stable. Mary cradled the Creator in her arms. "I never imagined God would look like that," she says to herself.

…Some are bothered when I speak of Jesus like this. They think it is irreverent and shocking!
But his purpose is not to shock, but to amaze.
The Word became flesh! Amazing! Merry Christmas!
It certainly is shocking and amazing, this claim that God (or a divine person within God) became a man. But why?
Not just because it is unusual. (It certainly is – I haven't met any human claiming to be a god, although claims like this are found in many polytheistic religions.)
Not just because it involves a miracle. (i.e. the miraculous conception of Jesus without a human father)
Not just because it involves a change in God. (i.e. not being human, to being human)
Not just because it involves God having surprising qualities.
No, the reason the claim shocks is that it seems contradictory, and for that reason, it seems false.
But it takes some effort to see this. Storms simply bombards us with claims that sound a little off. e.g.
…the invisible became visible!

the untouchable became touchable!

…the unlimited became limited!the infinite became finite!

the immutable became mutable!

…spirit became matter!

…the almighty became weak!
He wishes to produce amazement, but not disbelief (which would result from straight up saying the contradiction). Thus, the reader is left to discern – and be amazed by – the contradiction which is always just out of view.
Take the last one – the omnipotent God becomes a weak fetus or baby. That's just a change – no contradiction there.
Problem: most careful, reflective theists – Christian and not – think that God is essentially omnipotent. It is a contradiction to say that a being which is essentially omnipotent became weak, for what is to any degree weak is not omnipotent. Again, the ancient, classical view of God has him being essentially immutable – not something which happens to be immutable, but might have been mutable. It is a contradiction to say that something which is essentially immutable changes.
I humbly suggest that we ought not indulge in amazement that a contradiction is true, for we all know that no contradiction is or can ever be true. No, not even on Christmas, and not even if this sort of mystery-mongering is traditional, which it is.
There are orthodox/catholic theories which attempt to solve these problems – kenosis theory in particular, and unitarians (who chime in with dismayed comments on Storms's post) have their own solutions. But apparently "Reclaiming the Mind" is put on hold this time of year. Kenosis theory, as developed by recent Christian philosophers, holds that what are usually thought of as essential divine features – e.g. omnipotence, omniscience – are not essential to a divine being after all.Thus, the divine Word can at least temporarily be, e.g. to some degree ignorant, weak.
Interestingly, this move – demoting a traditional divine attribute from essential to non-essential doesn't work in the case of immutability. The concept of any being changing from being immutable (unchangeable) to being mutable (changeable) is a contradiction – even if at the start it was only contingently (non-essentially) immutable. It looks like if something's unchangeable, it must be essentially inchangeable. Interesting.
(Don't get it? Suppose that a thing changes from being unchangeable to being changeable. That's a change, right? So, it wasn't, at the start, unchangeable. And yet – we stipulated that it was. The scenario as a whole is contradictory.)
This is why sophisticated contemporary proponents of kenosis theory like Stephen T. Davis simply deny that God is immutable in the classical sense. In their view, God can and does change – not in his character, but in some of his other features. In patristic times, they would have dismissed this out of hand, but I think theists are on strong grounds to think that God changes in some respects. Any real response, any free action on God's part, is going to involve him changing, is it not? e.g. His creating the cosmos from nothing.
So this Christmas, do be amazed that God sent his one and only Son to redeem sinners like us. But, don't be amazed that God makes contradictions true, 'cause he doesn't. And if you agree that Jesus is the most important and interesting man in history, make it your project in this new year to find for yourself a consistent and biblical christology.
Related posts: