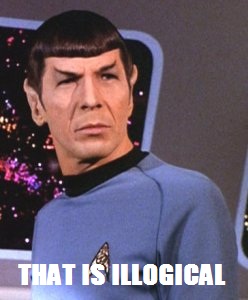 Minister Jeremy Myers asks: "Did Jesus Learn?" (HT: James McGrath on Facebook)
Great post. One favorite bit:
At one point in our discussion, I said, "Well, it seems logical that if Jesus was fully human, then He had to learn." Their response was, "I don't use logic. I just use Scripture." I just about broke out laughing. It seemed pretty obvious to me that logic was not being used. Ha! One guy also kept saying, "I don't speculate about Scripture. I just believe what it says."
Oh, "logic" (really, human reasoning ability) was being used… just not well! 😉
In any case, he answers the question of the post affirmatively.
I agree with Jeremy that according to the New Testament, Jesus learned. Any theory about Jesus must incorporate this fact. And while he was doing that, there were truths he did not know.
But that gives rise to this argument:
God is eternally omniscient.
Necessarily, a omniscient being knows all truths; there is at no time a truth that an omniscient being (who exists at that time) does not know.
Jesus, at times, did not know certain truths.
Therefore, Jesus is not eternally omniscient. (2, 3)
Therefore, Jesus is not God.  (1, 4)
I would say, in evaluation of this argument:
The Bible and reason teach 1.
2 is true by definition.
3 is said by Jesus himself.
And the rest follows logically.
The argument seems both valid and sound, yes? If so, we must accept the conclusion.
But many react: we can't say 5; catholic tradition requires the denial of 5.
In reply, some catholic Christians disagree; they think the one "God" is a group or complex being, and that Jesus is a member or part of God, so not God himself. They would agree with 5, while holding that Jesus is divine, and is called "God." All of this is controversial, of course.
Again, since the 19th c., a few catholics will, surprisingly, deny 1. But I'll set that aside for now.
Let's see if there's another way out. The only other way out, I think, is to deny 3  – to go against Jesus' straightforward statement of ignorance, and also the ignorance implied or presupposed elsewhere in the gospels. But wouldn't that make Jesus a liar?
It would seem so. But, we don't think Jesus was a liar.
Post-Chalcedon, many think this is a better answer: Jesus had two natures, or two minds. In / via / or with one of those, he knew all. But the other, the human one, was, to a degree, ignorant.
Is this view better? Laying aside the various theoretical agonies of two-natures theories, it still stands out that Jesus would be a liar. If you know all with or in one of your natures… you know all. If Jesus denied knowing something, when in fact he knew all (by or in one of his natures), that would be a lie, and seemingly wrong.
Again, laying aside the "social" or three-self trinitarian route above, and the "kenosis" theory also, we would have a contest of Bible (affirming 3) vs. catholic tradition (denying 5).
Bible's got to win, in my view.
You?
Related posts: