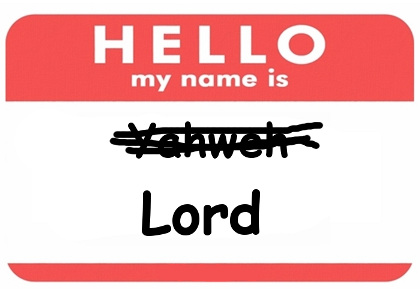 As reported in Christianity Today, and in other places, the Catholic hierarchy is forbidding the liturgical use of "Yahweh" (YHWH, Yahveh, Jehovah). Why? Because Jews consider it improper, and we ought not offend needlessly.
On the face of it, this is an oddly politically correct move. Yes, Jews believe the word "Yahweh" is too holy to pronounce or write, but should we agree? Must we also add "Peace be upon him" at the end of every use of the word "Jesus", because our Muslim friends consider it improper to omit those words?
I would argue that we should use God's name – at least, it is good to.  Don't get me wrong – I'm not one of those kooks who thinks that it's wrong to address God by anything but Yahweh/Yahveh/Jehovah (take your pick) – as if God would be offended, or would put his fingers in his ears until you used the right word. Sorry, but that's believing in a morally deficient, petty, legalistic God. My point is rather that there is value in addressing someone by his proper name, rather than by a title. A title is a singular referring expressing that began life as a count-noun. You may call God Boss, King, Lord, Great Spirit, Father, and so on. And by the use of some of these, we put ourselves in a different posture. In addressing God as Dad or Father, you adopt, mentally, the posture of a beloved child, a son or daughter. (Contrast: King, Boss) When I adress a being by his proper name, that assumes a familiarity between us, and an openness to one another. It's also somehow more personal, less generic, and that name has associations with, in the case of Yahweh, the Psalms, and the mighty deeds recorded in Exodus, and the profound thoughts of the prophets.
There is no absolute distinction between titles and proper names. I've heard that some OT scholars think that "YHWH" in fact used to be a title, a title applied to various deities, and that it used to have a descriptive meaning. Well, many of our names too once had descriptive meanings, but now they are used as proper names.
Like this guy, I appreciate the New Jerusalem Bible, which eschews the odd practice, adopted in almost all other English translations, of writing "LORD" for the Hebrew YHWH. When I read other translations, I mentally say "Yahweh" when I see that all-caps word. Why? Because it's just different – it's part of the flavor of the original text, that it's using a proper name in those places.
Is the Catholic hierarchy forbidding the use of "Yahweh" outright, rather than just in public prayers and songs? I take it they are not. But why not?
If it is intrinsically disrespectful to use God's name (as one Protestant scholar, quoted in the CT piece, seems to think), then it's also improper, say, in this blog post, or in conversation. So, just forbid it – say it is now a sin to say "YHWH".
If it's not intrinsically wrong, but only wrong because it offends some people, then shouldn't they forbid it whenever Jews might be present? But they have not.
Since they're sticking to liturgy, I think (call me unkind) they're aim is to show how darned tolerant and inoffensive they (the Catholic hierarchy) are, not to preserve God's honor, not to save the eyes and ears of Jews from something displeasing.
I'd argue like this: if it is wrong, it is intrinsically wrong. But, God revealed his name to ancient Israel, and for hundreds of years, they happily used the name. And, it was not wrong. So, it isn't wrong now.
One complicating factor: in the NT, they observe the then-current ban. Following the Greek translation of the Jewish Bible, the NT writers use "Lord" (Gr: kurios) instead of any form of YHWH. Really, it would've been pointless, when all or most Christians were all embedded in a Jewish culture which forbade the use of "Yahweh", to buck the trend. It would've been a big distraction, and caused offence that wouldn't have been worth it. But, we are not in a Jewish context; we don't react like someone has blasphemed when we hear the word. So I say, we Christians nowadays are free to pray or sing the Psalms how David did.
Our Jewish friends, I believe, are big enough to take it. They see us write "God" and not "G-d". They hear us say "God" and not "the Almighty" or "the Infinite", etc., and it doesn't ruin their day. We needn't rub their faces in the name, using it just to bug them. But, neither are we obligated to adopt their scruples as ours, or to hide our use of the name, any more than we have to lay off or hide the bacon.
An interesting question is: How did the notion arise that it is disrespectful to use God's name? On the face of it, the opposite is true. You're relating to him in person-to-person, friend-to-friend way (not as equals, but as friends nonetheless). You're calling him, moreover, what he said his name was.
Here's a guess: in ancient times it was common to (1) swear in God's name, and (2) to try to use God's name for magical purposes, as if the mere use of the name had power, or somehow obligated the deity to act for you. Both, arguably, are disrespectful to God or are at least inappropriate. So, they created a "fence law" to head off both problems – you just can't say the name at all.
Another guess: the just, as humans are wont to do, imagine God in the image of a human leader such as a king. Such a person may demand to be adressed by most people in a formal way, e.g. "Your majesty", so that they never forget how above them he is. Even we feel obligated to call our leader "Mr. President" or "Mr. Prime Minister" in most contexts. But, human leaders are in many ways poor images of God. God, our heavenly Father, allows us call him by name.
Related posts: