It has occurred to me that many readers, especially new readers, may misread my ongoing discussion of modalism and modalists.
As I use the term "modalism", it is a descriptive term for how some people think about one or more of the Father, Son, and Holy Spirit. Most people, though, use it as a tag for a certain heretical theology, long denounced by mainstream Christianity. For them, the term "modalism" is evaluative as well – it implies that the person is mistaken, or at least theologically out of bounds.
What gives? Why am I using the term this way? Because it is helpful, in understanding different views about the Trinity, to give descriptive (and if possible, neutral) names to different views. Doing this, we can classify them, object to them in different ways, and decide which we think is true. It is just a method of sober thinking. Now "modalism" obviously doesn't have completely neutral connotations, but I'm still using it as it seems apt, and I can't think of a better term. I just have to signal that I'm using it somewhat outside the normal meaning.
So when I call someone a "modalist", I'm not calling them a heretic, or even thereby implying that their doctrine is false or unjustified. I'm just saying, that they think that one or more members of the Trinity are identical to God or modes of God. I may go on to argue against their claim, but the label itself carries no argument or even judgment.
I'm trying to avoid the game of scoring rhetorical points against people I disagree with by slapping some hoary heresy label on them. Call it the polemical label slapdown. "Aha! Jones is a Sabellian!" Now Jones's doctrine may have something in common with the historical Sabellius, or with later doctrines denounced using that name. But if he's wrong, it's just lazy to point out that he's out of the mainstream. Sometimes, outsiders are correct! And, of course, so are mainstreamers. The question is: is Jones's claim true?
The polemical label slapdown is more than lazy, though. It's way of lumping your opponents together so you can heap scorn on them whilst ignoring important differences between them. It's sort of like Rush Limbaugh calling Hilary Clinton, Chairman Mao, and Michael Moore "communists". As I've pointed out, a lot of different views go by the name "Sabellian" or "Monarchian" or "modalism" (used in the traditional heresy-labelling way). Same thing with the term "Arian"; often, the term is slapped on any theology that posits any sort of priority or difference among members of the Trinity. This is simply confused and confusing. I also think there's also something inherently disrespectful about it.
Moreover, we philosophers who work on 17th and 18th century philosophy have seen this brand of silliness before. How much ink has been spilled over the burning question: Was John Locke a "Socinian"? And how many people innaccurately denounced Hobbes and Spinoza as "atheists"? (They were in fact materialistic theist and pantheist, respectively.)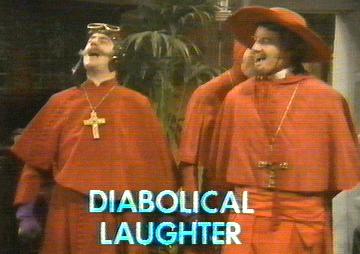 It isn't that labels are somehow bad. The point of labelling is to accurately classify. The point of that is to understand. The point of that is to evalutate reasons for and against. The point of that is to believe what is true, and to avoid believing what is false. OK, that's enough platitudes for now.
In sum, we're philosophizing here, not conducting some kind of Spanish Inquisition.
Related posts: