The problem I noted last time is well-known by philosophers who work in the history of philosophy (I'm not sure that mainstream philosophers who stick almost entirely to recent stuff are so aware of it). Nor do I exempt myself from this lamentable tendency.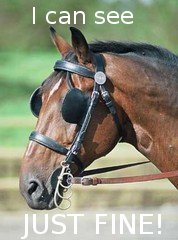 I'll give a real example, with other peoples' names omitted out of respect. Some years ago, I began reading a Great Historical Philosopher on a central Topic in philosophy. I dug into his works with all my might, and along the way I was guided by the writings a Eminent Elder philosopher, and a Rising Star who is somewhere around a decade older than me, as they commented on the Great and on the Topic, and on the Great on the Topic. I didn't publish my work on the Topic, but continued to think about it off and on. Then, goaded by some work by another, younger Rising Star, I went back and again read what the Great says about the Topic. To my shock, as plain as day, the former Rising Star, the Eminent Elder, and I had misread the Great. For philosophical reasons, we were all committed to not-P, and we had consistently read the Great as asserting not-P. But the Great plainly and repeatedly says and assumes P. The second Rising Star helped me to see this. But I emphasize, this second rising star is not better a philosopher than the other Star, and he's certainly not better than the Eminent Elder. It's just that the second Star's agendas didn't require him to assert not-P, and so he had no motive to attribute not-P to the Great. This kind of error can be corrected. Rising Star number two helped to change my mind, and in principle the other Star and the Elder might come around as well.
In theology, I believe this is an even bigger problem. The reason is that there are entrenched religious powers (pastors, bishops, seminaries, pope, popes, movements), entrenched in positions that require certain biblical texts to say P, even if they don't. Philosophy has its entrenched powers and orthodoxies as well, but a philosopher's livelihood, at least after tenure, doesn't depend on his agreeing or pretending to agree with these. Also, theologians have a way of… "escalating" issues, so that Everything Depends on This Being True, whatever the pet issue is.
Some years ago I attended a Calvary Chapel church. That denomination has the sometimes exciting and sometimes incredibly boring habit of the pastor preaching through the whole Bible, verse by verse. (It can be boring when they just read "P" and then tell you "See, it says 'P'. Yep, 'P' alright. Ain't that great? 'P'.") I'll never forget a Sunday when the pastor read a passage that pretty clearly asserted something contrary to Calvary Chapel orthodoxy (no, it didn't have to do with the Trinity or Incarnation). So he reads "P", and then with some embarrassment but with a straight face nonetheless, tells us that it we must interpret this passage as teaching not-P. I remember sitting there with my English and Greek New Testament on my lap and my mouth hanging open, and wishing it was a philosophy seminar, so I could object. But alas, it was a sermon, so I had to just swallow the bitter pill.
Now what does all this have to do with the Trinity? Just this – when you get deeply into some of the contemporary and historical debates, you'll see that at least one side has to be mistaken about the proof-texts they're hurling back and forth at one another. This isn't because the disputants are stupid; to the contrary, the smarter you are, the more of a complicated theoretical agenda you'll have, and the more creative you are at biblical interpretation. In sum, being a Great Theologian makes you more, not less likely to suffer from Theory-Warped Exegetical Syndrome. (Yes, I just made that "disease" up.) All you can do is to keep going back to the texts, and try to find people with a (relatively?) non-warped understanding of them to help you, and TRY not to let your agenda blind you to what is and what ain't in the texts. And, pray for grace.
Related posts: