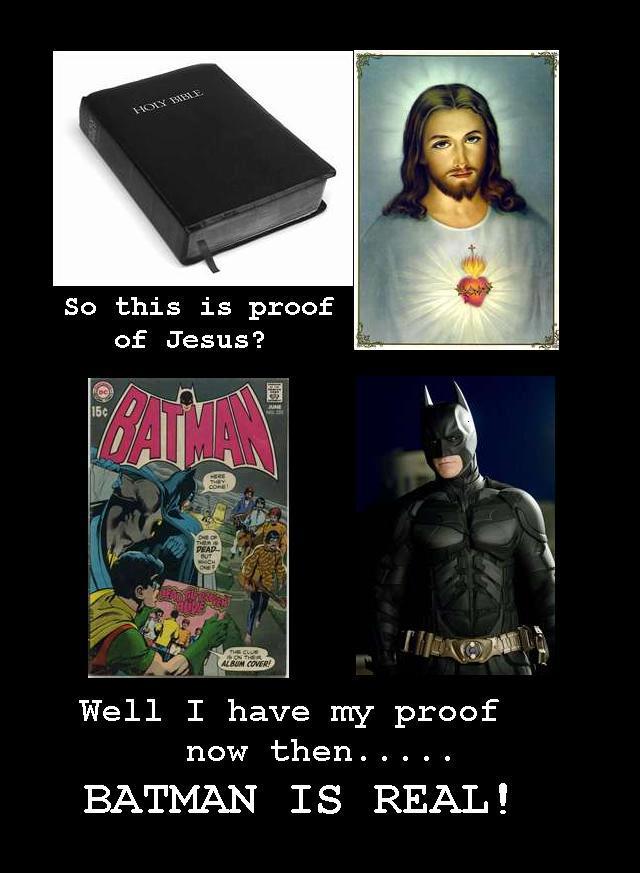 Christmas time! So time to sell magazines (etc.) with sensational, poorly reasoned articles which attempt to be bold and provocative. It's as predictable as the rising sun.
No book is evidence, right? Right. Else we'd be able to prove the reality of Batman by citing a comic book.
[Facepalm]
This argument kills with 8th-graders. But any adults should be unimpressed. I'll wager that any adult can think of many written reports that are important evidence for all kinds of claims!
Dear would-be Jesus de-bunker: kindly reflect on this fact. 0% of historians believe Batman is a real guy. And rounding up (to account for a very, very few kooks) 100% of historians believe that Jesus was a real Jewish man. Now, why is this?
Please, don't make me facepalm again by replying with some conspiracy theory. Remember, these are historians of all or no religious convictions.
Here's Dr. Michael J. Kruger ably rebutting the latest seasonal silliness. Just ignore the bit where he insists no one can show there contradictions between the New Testament books; that's not at all essential to his case. In part,
…Tarico appeals to the well-worn argument that since Paul, our earliest Christian writer, provides little biographical details of Jesus' life, then Jesus must not have existed. This argument is problematic on a number of levels.

(a) First this argument misunderstands entirely what Paul's letters were designed to do. They were epistles, not Gospels, and therefore not intended to recount the words and deeds of Jesus. Tarico is confused about the genre of early Christian writings and assumes they would all cover the same territory.

(b) Paul actually knows quite a bit of historical details about Jesus and these come out in various places in his letters. One key example is how he recounts (in detail) what Jesus did and said at the Last Supper (1 Corr 11:23-26).

(c) Paul would have known the immediate disciples of Jesus, such as Peter and John, and would have had access to many other people who lived during the time of Jesus. If Jesus never existed, are we to think that Peter and John just lied to Paul? Or are we to think that Paul just made up characters of Peter and James and the witnesses of the resurrection (1 Cor 15:3-8)? And if Jesus never existed, would not Paul have heard this from other people who were alive in the purported time of Jesus' life? In the end, Paul's life is nonsensical if Jesus didn't really exist.
Related posts: