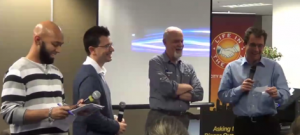 This episode features this 2013 discussion/informal debate about Jesus in Melbourne, Australia, featuring a trinitarian Christian (Dr. Bernie Power), a unitarian Christian (Pastor Steve Katsaras), and a Muslim (Mr. Shahir Naga).
The audio is a little rough; I've cleaned it up a little for this episode. Here is the video from which this audio is taken. Many thanks to the City Bible Forum in Melbourne for putting on this event, and for their permission to use their audio here.
This discussion been discussed on the Kingdom Ready blog already. Please post other discussion links in the Comments section below.
In the next three episodes of the trinities podcast, I'll interview each debater to get his post-debate thoughts.
You can also listen to this episode on Stitcher or iTunes (please subscribe, rate, and review us in either or both – directions here). It is also available on YouTube (scroll down – you can subscribe here). If you would like to upload audio feedback for possible inclusion in a future episode of this podcast, put the audio file here.
You can support the trinities podcast by ordering anything through Amazon.com after clicking through one of our links. We get a small % of your purchase, even though your price is not increased. (If you see "trinities" in you url while at Amazon, then we'll get it.)
Related posts: