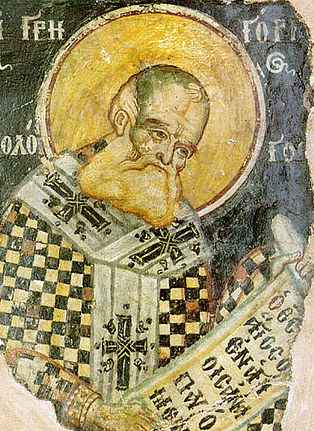 "This is some writing about that which nothing can be written about. Pretty cool, huh?"
I've been reading Gregory of Nazianzus lately, his famous Theological Orations (c. 380 CE), wherein he expounds and defends what scholars call the pro-Nicene consensus about the Trinity – a viewpoint which developed in the latter half of the 4th c. by bishops rallying around the new homoousios term.
In the second oration, he hits this theme hard: God's essence (the divine nature, the Godhead/deity) is unknowable. What does he mean by this? Only that it isn't completely knowable (by us, in this life)? He does think that, but he's saying more than that.
You might think you understand part of the divine nature. "Omniscience – that's knowing everything, every truth or fact there is. Omnibenevolence – that's being perfectly good. And aseity – that is existing but not because of anything else. So I do understand part of the divine nature – I understand three properties which are included in his essence (i.e. in divinity). Of course, I don't grasp or understand all that divinity includes."
Doesn't that sound right? Well, Gregory thinks it is desperately wrong. This comes out in the third oration where (after two orations of elaborate bluster and abuse) he finally descends to close combat with his opponents, the Eunomians and Macedonians ("Arians") of Constantinople. They object that Father and Son must be different because the former is unbegotten, while the latter is begotten. The idea is that divinity either includes unbegottenness and includes begottenness, or (more plausibly) it requires unbegottenness and so excludes begottenness.
Gregory replies that begottenness and unbegottenness are not mutually exclusive, but to the contrary, necessarily, what is begotten must be of the same nature as that of which it is begotten – the unbegotten begetter. (Sorry – this terminology begetting the best of me!)
He also puts forward a second answer: that those terms, just like wisdom and unwisdom (applied to a man),
…mark not a difference of essence, but one external to the essence. Are immortality and innocence and immutability also the essence of God? If so, God has many essences and not one; or deity is a compound of these. For he cannot be all these without composition, if they be essences. (Oration 3, section 10, emphasis added, p. 167, in this book,)
This sounds radical; he's suggesting that any term we apply to God applies only to something other than his essence. In other words, we're not able to grasp any part or aspect of God's essence at all. It's not just that we can't grasp all of it – though that's true – rather, we don't grasp any of it. God's essence, he insists, is utterly simple, yet these terms people think denote essential features of God, appear to denote distinct features.
Here, then, is the puzzle: how can Gregory argue that the man Jesus has the divine nature? If he has no idea really what the divine nature is or involves, how can he (so to speak) pin it on this man Jesus?
Contemporary theologians argue like this: Jesus is/did/said/was called X. And things which are/do/say/are called X have some feature F (e.g. authority to forgive, omnipotence, omniscience, eternal existence), which is part of the essence/nature of divinity. Whatever has part of that essence has all of it. So, Jesus has the divine nature.
To show that Jesus is divine, Gregory does what I call arguing by text dump (Section 17, p. 172) – he quickly partially quotes some three dozen Bible passages in which Jesus is called "god", is attributed pre-existence, is called the wisdom of God or light of the world, etc. All in half a page.
Now grant him his reading of all these passages. How does one get from "Jesus is the light of the world" or "Jesus always existed" to "Jesus has the divine nature"? Remember, we don't grasp any essential divine attributes – eternal, uncreated, etc. don't name any part or aspect of divinity. Only God has the divine nature. But eternality, uncreatedness – why couldn't something without the divine nature have those? Why couldn't something without the divine nature be called "god" or "God"?
It seems to me that Gregory's radical claim that we grasp nothing of the divine essence undercuts any argument he can give for the divinity of Christ. Question: Am I misreading him, being unfair, or overlooking some crucial point of pro-Nicene theology here?
Again, a similar difficultly crops up when he argues that the Holy Spirit shares the same divine nature as the Father. In oration 5, section 8, he argues that because the Holy Spirit proceeds from the Father, who is divine, the Holy Spirit must be divine. Look at the form of this argument:
1. H(f,d) The Father has divinity.
2. P(h,f) The Holy Spirit proceeds from the Father.
3. Therefore, H(h,d) Therefore, the Holy Spirit has divinity.
Does 3 follow from 1 and 2? We can't tell that it does just by looking at the argument's structure. To see it's a valid argument, we'll have to understand the meaning of D and P – what it means to call something divine, and to say that one thing "proceeds" from another. Perhaps in that way we might discover how it is impossible for 1 & 2 to be true, while 3 is false. But Gregory hammers the point that we understand neither. But then, why think divinity is transmitted, so to speak, by procession? Why can't a non-divine thing, or a different divine thing "proceed from" a divine thing? To be fair, he does sometimes assert or assume that "proceeding" (like "generation") is like creaturely reproduction in that the offspring has the nature of the parent. But why should his opponents accept that? (Also, a natural offspring has the same universal nature, but he claims that in the divine case, an individual nature comes to be shared – so the cases aren't all that alike, on his own views.)
Here's what Gregory has to say:
What, then, is procession? Do you tell me what is the unbegottenness of the Father, and I will explain to you the physiology of the generation of the Son and the procession of the Spirit, and we shall both be of us be frenzy-stricken for prying into the mystery of God. (Oration 5, section 8, p. 198, emphasis added)
:-\
Related posts: