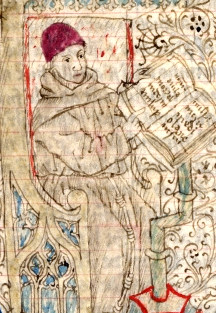 A postscript to our Richard series: I was reading the interesting and dense The Mysteries of Christianity, by 19th c. German Catholic theologian Joseph Scheeben, on Richard of St. Victor, and he says the following in a footnote:
Scotus states decisively that Richard of St. Victor adduces rationes necessariae for the Trinity, but not evidenter necessariae, because the principles from which he argues are not evident. Cf. III Sent., d.24, q.un., no.20; I Sent., d.42, q.un., no. 4; Reportata, prol., no. 18. (p. 29, fn. 11)
I assume that Scotus's point is the Richard's arguments are valid, but that each has at least one unknown premise (making them not real "proofs" or demonstrations). But I lack the time and Latin ability to chase down these quotes and translate them.
Anyone else care enough about this to do it?
If you're not a trinities contributor, this could be a guest post opportunity. The task: read the above passages, translate the relevant bits, share the translated bits and the point of them with us here.
Is Scheeben correct in saying that these objections are decisive? If you're interested, email me.
Related posts: