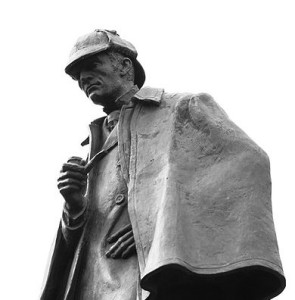 As pretty well summarized here by unitarian Theophilus Lindsey.
In the year 1694 began the great contest concerning the Trinity, betwixt two celebrated doctors of the church, Sherlock and South; each of them reputed and reputing himself orthodox, and each of them espoused by learned and powerful partisans.

Dr. Sherlock expressly asserted, that the three persons in the Trinity are three distinct, infinite Minds or Spirits, and three individual Substances. Dr. South held only one infinite eternal Mind or Spirit, with three Somethings that were not three distinct Minds of Substances, but three modes, faculties, attributes, relations, relative properties, subsistances, as there were variously denominated. Dr. Sherlock was accused, and with great justice, if words have any meaning, of polytheism, or holding three Gods. Dr. South, on the other hand, came under the imputation of explaining away the Trinity, and falling into the Sabellian or Unitarian system: and accordingly some of the Socinians took advantage of the Doctor's explication of the doctrine of the church, and declared in their writings, that the should not be backward to give their approbation to the Liturgy and the Articles, if that was the kind of Trinity which the language therein used was intended to inculcated.

The university of Oxford, to whom Sherlock was obnoxious on account of his political principles, declared for Dr. South; and the vice-chancellor and heads of colleges and halls, assembled November 25, 1695, passed this censure on the opposite doctrine, viz. "That the assertion, that there are three infinite, distinct Minds and Substances in the Trinity, is false, impious and heretical, contrary to the doctrine of the catholic church, and particularly to the received doctrine of the church of England."

But this censure had no consequences. As both parties made no scruple of using the common language of the church, and held three Somewhats, there were never called into question, or their orthodoxy impeached. Only, the quarrel ran so high from the pulpit, that the state thought proper to interpose its authority to stop it; and accordingly an injunction came forth for his Majesty, King William, bearing the date February 2, 1695, with directions to the archbishops and bishops to be observed in their respective dioceses. The two first of these were,

That no preacher whatsover, in his sermon or lecture, do presume to deliver any other doctrine concerning the blessed Trinity, than what is contained in the holy scripture, (and is agreeable to the three creeds, and the thirty-nine articles).
That, in the explication of this doctrine, they carefully avoid all new terms, (and confine themselves to such ways of expression as have been commonly used in the church.)

N.B. If the words hooked in a parenthesis had been omitted, there would have been a better and more lasting foundation laid for peace and truth. (pp. 59-61, original italics, bold emphasis added, punctuation slightly modernized)
I don't think Lindsey's right in his last statement. How could the power of the state force an end to a theological disagreement? And if you force people to use old words – be those of the ecumenical creeds, or those of the Bible – they will simply redefine them to fit their theories.
Five other quick comments:
First, this is a typical fate for a three-self Trinity theory. If I were a "social" trinitarian, I would be a bit nervous. Even now, the forces of more traditional (usually, fourth century or high medieval) Trinity theories are grower louder in their rejection of "social" theories. I'm not presently aware of any heresy-trial type reactions by church bodies, but those may well come. (Not that I welcome them!)
Second, the King's attempt to stamp out debate did not work, even though it was followed up by The Blasphemy Act. Debate in England flourished in the next several decades.
Third, it is interesting that many sides in this debate lumped together modalist ("Sabellian") and unitarian theories. They are both one-self Trinity theories. But they are not the same! Also, each comes in several varieties.
Fourth, for "Somewhats" present-day English speakers would say "something-or-others." The inspiration for such a mushy claim, comes from a famous passage in Augustine.
Fifth, there are many interesting things about this conflict, which began earlier than, and is more complex than Lindsey lets on. For a recent take by a trinitarian, the place to look is here. For contemporary unitarian takes on the Sherlock-South (etc.) debates, with copious quotations from many sources, see this and this.
Related posts: