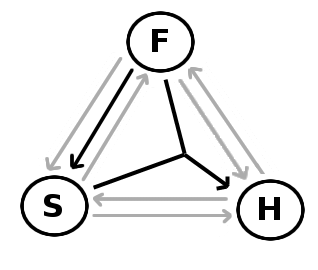 Dale's Swinburne Trininty chart, version 2.0. (or 1.1 – whatever)
Thanks to reader (and Swinburne student) Joseph Jedwab for the correction. He points out:
[Swinburne] wants to avoid the idea that the Spirit's existence is causally overdetermined [i.e. that it has two complete causes, either of which would alone suffice]. But he also wants to avoid the idea that each actively only partly causes the Spirit to exist. (comment on the previous post, accidentally deleted)
This seems right. I see Swinburne talking of the Father and Son as "co-causes" of the Spirit. It isn't clear what co-causing is supposed to amount to (that their efforts are each necessary, but only jointly sufficient for the procession of the Spirit?), but that's another subject. Above is a more accurate chart.
Technorati Tags: Swinburne, social analogy, social trinity, social trinitarian, procession
Related posts: