Greetings, campers. We'll return to Swinburne in a bit… I've been drawing again: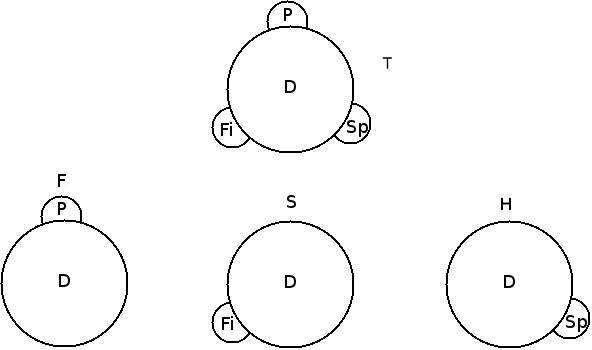 Now it's all clear, right? RIGHT?!
key:
D = the divine essence
P = paternity
Fi = filiation
Sp = spiration
F = the Father
S = the Son
H = the Holy Spirit
T = the Trinity
In this chart are eight "things" – in the widest sense of "thing", i.e. something that may be referred to. None is identical to any other. I've given each one a unique one or two letter name. But there are only three divine persons (or "persons") and exactly one god, the God.
Here's one application for this chart. (This ties into some things that Josh Blander (PhD student of the excellent Calvin Normore at UCLA) and I have privately emailed about, as well as some things discussed by JT, Joseph, and Scott here. Take all of the above to be individual things, and just say that they are proper parts of the Trinity. So each Person is a complex thing, with D and a relational property as parts, and the Trinity is the mereological sum of those, i.e. a complex thing with the other seven things as parts. The persons are each individuated by a certain unique relational property, the subject of which, in every case, is D. I was too lazy to add the arrows, but the thing F would generate S, and F & S would spirate H – so it is F, S, and H which stand in those (causal?) relations, not P, Fi, and Sp.

What, if anything, is wrong with this, as an orthodox way to understand the Trinity? And: is it the correct way? Josh? Scott? Anyone?
Related posts: