Most conservative (and even, many not-too conservative) Christians belong to churches and/or denominations which affirm traditional language about the Trinity. In this series, I'm going to just put all this on the table, as the fact is, many Christians, especially those from less "confessional" traditions, aren't very familiar with these traditional formulas. I'm not going to go too much into the history for now.
The council of Nicea (325 CE) was the first major step on the way to traditional trinitarianism. Here's some of the document that council produced: (I've added the bold highlighting and removed some of the formatting.)
We believe in one God the Father all powerful, maker of all things both seen and unseen. And in one Lord Jesus Christ, the Son of God, the only-begotten begotten from the Father, that is from the substance [Gr. ousias, Lat. substantia] of the Father, God from God, light from light, true God from true God, begotten [Gr. gennethenta, Lat. natum] not made [Gr. poethenta, Lat. factum], CONSUBSTANTIAL [Gr. homoousion, Lat. unius substantiae (quod Graeci dicunt homousion)] with the Father, through whom all things came to be, both those in heaven and those in earth; for us humans and for our salvation he came down and became incarnate, became human, suffered and rose up on the third day, went up into the heavens, is coming to judge the living and the dead. And in the holy Spirit.

And those who say "there once was when he was not", and "before he was begotten he was not", and that he came to be from things that were not, or from another hypostasis [Gr. hypostaseos] or substance [Gr. ousias, Lat. substantia], affirming that the Son of God is subject to change or alteration these the catholic and apostolic church anathematises.

THE LETTER OF THE SYNOD IN NICAEA TO THE EGYPTIANS

First of all the affair of the impiety and lawlessness of Arius and his followers was discussed in the presence of the most pious emperor Constantine. It was unanimously agreed that anathemas should be pronounced against his impious opinion and his blasphemous terms and expressions which he has blasphemously applied to the Son of God, saying "he is from things that are not", and "before he was begotten he was not", and "there once was when he was not", saying too that by his own power the Son of God is capable of evil and goodness, and calling him a creature and a work.

Against all this the holy synod pronounced anathemas, and did not allow this impious and abandoned opinion and these blasphemous words even to be heard.

Of that man and the fate which befell him, you have doubtless heard or will hear, lest we should seem to trample upon one who has already received a fitting reward because of his own sin."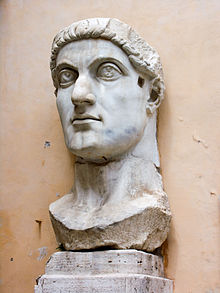 This council was occasioned by the Arian controversy. The history of this council, and especially its aftermath, is really interesting, and rather more ambiguous and down and dirty than common Catholic and Protestant apologetic accounts suggest. Major works on this are
Inquirers should beware that anti-trinitarian literature often subscribes to simplistic, almost conspiracy theory accounts of the council, viewing as controlled by the ambiguously Christian emperor Constantine (who it must be admitted, had a lot more to do with the council than many of us would be comfortable with, were it up to us). But one should also beware of pro-Nicene spin on the events before, during, and after the 325 council from many writers, including Ayres and to a lesser extent Hanson. Truly, the passions aroused by the "Arian" controversy are still with us.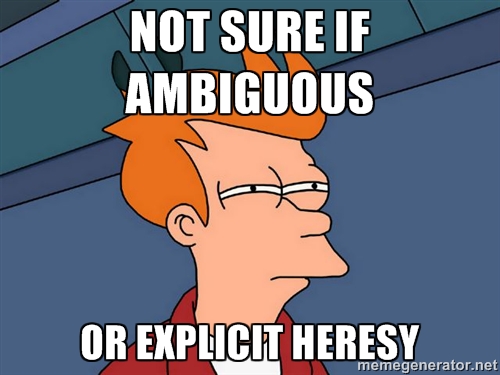 The central formula, that Son and Father are "consubstantial", is very ambiguous. What is the sense of "substance" here? Same individual (i.e. God)? That would seem to be be Father and Son modalism, or else the incoherent claim that two beings are one being. Is it a universal nature or essence? That would seem to be di-theism, belief in two divinities. Is it that they're "made of" or just "have" the same matter or stuff, or something analogous to matter or stuff? Or is a substance a particular but abstract thing, an individual property? Or… what? The formulas don't tell you. There are more and less popular, and more or less plausible interpretations of how this document should be read, but it is less clear that there is one on which all reasonable Christians should agree.
It was quickly recognized that the above formula could be read (and spun, and "pushed") in incompatible ways. Indeed – the words were chosen precisely for their ambiguity – it was a way to get the disagreeing parties to come together (each reading the words somewhat differently) and say something that the "Arians" could not accept. Post-council, some from the "Arian" and "neo-Arian" (really, subordinationist) camps accused the council of affirming Sabellianism. And a vicious, long theological fight ensued over how these words were to be understood, replete with dueling councils and council-documents, much heated polemical literature, occasional violence, lots of excommunications, and kissing up to the current emperor, trying to get him to smash one's theological opponents.
I wonder how many Christians today agree with this part?
. . . affirming that the Son of God is subject to change or alteration these the catholic and apostolic church anathematises.
One final note: this isn't, when you look closely at it, quite a trinitarian document. The issue at hand was the metaphysical nature of the Son. The Holy Spirit is barely mentioned, and the concept of a three-personed God just isn't there. It was really all a christological dispute that occasioned the council. Echoing Paul and John (etc.) they still use "God" as a name for the Father, not for the whole Trinity (and also echoing the NT, they used "God" as a name or title for the Son as well).
For more information, there are podcast episodes on the controversy leading to the council, and the council statement itself, and how modern historical work is starting to replace partisan propaganda.
Related posts: