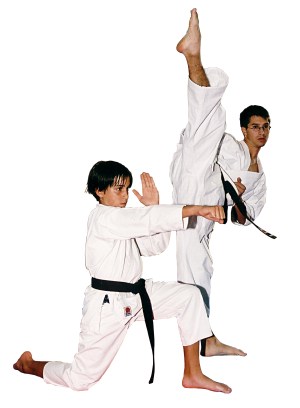 Is the Trinity contradictory? In reply to such a charge or query, there's a standard opening move employed by trinitarians who have some training in logic, be they theologian, philosopher, or apologist. (I've seen this by all three sorts.) It goes like this:
"We're not saying that God is exactly one A and exactly three A's. That would be a contradiction. We're saying that God is one A and three B's. Where's the contradiction?"
On the face of it, this is a good and reasonable reply to the charge that the doctrine of the Trinity includes or implies a contradiction (and so is false). In general, we must be careful with facile charges of contradiction; often, such claims are easily rebutted.
But it is only an opening move, and it is a shallow one, as I'll explain. In fact, it leaves you as exposed as our friend with the raised leg here.
Suppose you say that right now there are ten on the field, and also exactly two on the field. By this, you mean ten players and two teams. This is consistent.
How about ten bugs and two players. No problemo.
Now suppose you say that there are now ten players on the field and exactly two human beings? That is not consistent, for each player just is a certain human being.
Thus, the sort of logical point I made at the outset of this post works sometimes, but sometimes it fails. It all depends on what the terms are, and how they are related.
But does this work or not, in the case of the Trinity?
With creedal Trinity claims, as often understood, A = divine being, and B = divine person/self. So we'd be saying that God is one divine being who is (or maybe, in some sense contains) three divine persons.
Now any self just is a certain being; the concept of a self just is the concept of a certain sort of being. So if there are exactly three persons, each will be a certain being, and they can't be the same being, for we've said there are three selves (hence, three beings). Thus, if there are three divine persons/selves, this seems to imply that there are three divine beings. But the creedal doctrine is supposed to include monotheism – that there is exactly one divine being.
D'oh! Not consistent.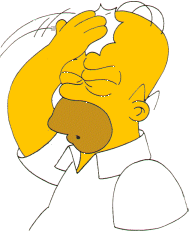 Thus, it is not clear that this defense works; it seems to sweep the dirt under the carpet, leaving a large lump showing.
But maybe something's gone wrong. Let's try again. Maybe we used the wrong terms. Here's another way, much tried: A = divine being, B = personal mode of a being / way of living. So the doctrine would be: God is one divine being which has exactly three personal modes of being / ways of living.
Consistency achieved. But Houston, we have a problem! Jesus Christ is, in the catholic tradition, identical to the second person of the Trinity. Here, a "person" of the Trinity is understood to be a way or mode in which the one God lives. But wait – Jesus is a self, a living, knowing, agent – a being with intelligence and will. And it appears that such a thing isn't and can't be a mode of some being – a way some being lives; no, a self is a being in its own right. Leaving aside that metaphysical point, we seem to have made a loving, interpersonal relationship between Father and Son impossible, replacing it with one self (God) in a certain mode (Father) interacting with himself in a different mode (Son). Arguably, this flies in the face of the New Testament. In short, we've lept into a boiling pot of modalism. Bad move!
Here's another try: A = divine being, B = something, I know not what. So the doctrine would be: God is one divine being in which there are exactly there something-we-know-not-whats.
And yet one of those something-or-others, you hold, is the Lord Jesus Christ. And you think he's a great and glorious self, and so not some sort of inconceivable thing. Sorry: not consistent.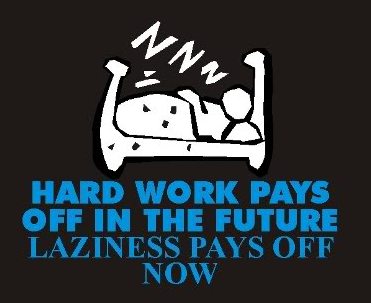 Which way to go? Unclear. There have been suggested other ways out, but in these two popular second moves I've just outlined, one runs straight into a contradiction – not in the resulting Trinity theory itself, but rather, between that theory and something else any Christian is, as such, committed to.
There may well be laziness on the part of the objector here; he hopes for a quick knock-out blow against the Trinity, a proof (compelling, knock-down argument) that it's self-contradictory. Good luck finding one of those.
Maybe the best I can say for this opening move is that it's a lazy reply which may fit a lazy objection. I call the reply lazy because it leaves unclear just what the doctrine is. It merely makes a point about the creed using different terms. Moreover, it merrily ignores some other inconsistencies which lie right around the corner, as soon as one tries to clearly say what the doctrine is supposed to be.
One way a doctrine can be patently false is to be formally inconsistent – in terms of propositional logic, asserting P and not-P.
But another way a doctrine can be patently false is for it to include claims P and Q, while it is obviously true that: if P then not-Q. Here, there's no formal contradiction between the component claims (P, Q), for neither is the negation of the other (e.g. P, not-P). Yet, if it is true that if P then not-Q, the doctrine (P, Q) implies a falsehood, and so includes a falsehood, for it can't be that both P and Q are true.
Any Trinity doctrine worth is salt ought to be such that its component claims can be understood and examined to see if they're all consistent each other, and with other things we all know. If so, then the doctrine would appear to be consistent, and so, may appear true, if supported by our sources. But if the claims contradict one another, or if by adding some self-evident truth to the mix we can logically derive a contradiction, then the doctrine would be patently false, whether self-contradictory, or inconsistent with something else which is evidently true.
Who is willing to pony up such a Trinity theory? In my experience: Many a Christian philosopher. Fewer theologians. Even fewer apologists. For the non-lazy, there's a lot to consider.
Related posts: