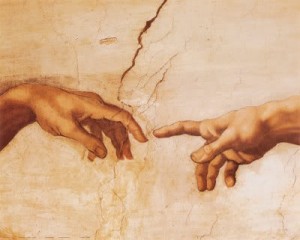 The pagan polytheistic monotheist Celsus presses the attack we looked at last time.
If you [Christians] taught them that Jesus is not his [God's] Son, but that God is the father of all, all that we really ought to worship him [God] alone, they [Christians] would no longer be willing to listen to you unless you included Jesus as well, who is the author of their sedition. Indeed, when they call him Son of God, it is not because they are paying very great reverence to God, but because they are exalting Jesus greatly. [Origen answers:] We have learnt who the Son of God is, even that he is 'an effulgence of his glory and the express image of his person' …and we know that Jesus is the Son come from God and that God is his Father. There is nothing in the doctrine which is not fitting or appropriate to God, that He should cause the existence of an only-begotten Son of this nature. (Against Celsus 8.14, trans. Henry Chadwick, pp. 461-2, bold added)
Celsus pushes the point that a real monotheist would only worship God, and suggests that Christians exalt Jesus at God's expense. (Never mind how he might reconcile this with his acceptance of traditional polytheism.)
Origen replies that the Son deserves it, because he really is God's Son, from God. God has exalted Jesus, as he says below – so this worship of Jesus can't be to the dishonour of God. He then answers the "sedition" charge, which I omit here, and deals with some bizarre quotations Celsus throws out from some unknown, probably gnostic source. Finally, Origen argues,
We affirm that this person is Son of God – yes, of God to whom, if we may follow Celsus' words, we pay very great reverence; and we know His Son who has been greatly exalted by the Father.

But we may grant that some of those among the multitude of believers take a divergent view, and because of their rashness suppose that the Saviour is the greatest and supreme God. But we at least do not take that view, since we believe him who said: 'The Father who sent me is greater than I.' Consequently we would not make Him whom we now call Father subject to the Son of God, as Celsus falsely accuses us of doing. …the Son is not mightier than the Father, but subordinate. …We affirm that the Saviour… is Lord of all that has been subjected to him… but not that he is also lord of the God and Father who is mightier than he. …It is not our purpose to worship any merely assumed God, but to worship the Creator of this universe and of all else which is not sensible or visible. (8.14-5, pp. 462-3, bold added)
I've met more than a few of these confused Christians that Origen mentions here!
Question time:
Does Origen here argue that Jesus is the Christian God, the one true God? Or that the Son is "functionally subordinate" to the Father, though "ontologically equal" to him? Or that the Son is as great as the Father qua divine, but less great qua human? (trinitarian)
Or does Origen argue that Jesus deserves worship, even though he is not God himself, but is (eternally) caused to exist by God, so that God is greater than his Son? (unitarian)
Related posts: