In the words of Moreland and Craig,
We turn finally to Trinity monotheism, which holds that while the persons of the Trinity are divine, it is the Trinity as a whole that is properly God. If this view is to be orthodox, it must hold that the Trinity alone is God and that the Father, Son and Holy Spirit, while divine, are not Gods. (589, their section 3.2.2)
Leftow, in the essay we mentioned last time, gives a complicated objection to this whole approach, which Moreland and Craig represent in the following helpful chart. (p. 590)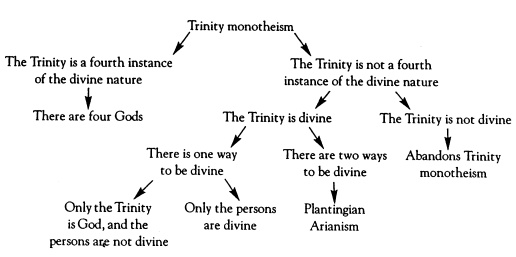 Leftow's point is that no matter how you develop Trinity monotheism, you end up with an unacceptable theory – one of the things at the bottom of the chart. So take your pick – from left to right – four gods, the persons aren't divine (contrary to orthodoxy), the persons are divine but God ain't (contrary to orthodoxy), or what Lefton contentiously calls "Plantingian Arianism". (This is the social trinitarian theory propounded by theologian Cornelius Plantinga, which on Leftow's view involves greater and lesser ways to be divine, the Father being held as the origin of the other two, and so divine in a greater sense. So it isn't properly speaking "Arian", but Leftow calls any theory including degrees or levels of divinity "Arian".) Or (far right side of the chart) one can abandon Trinity monotheism.
How do Moreland and Craig respond? Like this – I've doctored up their chart to represent their reply.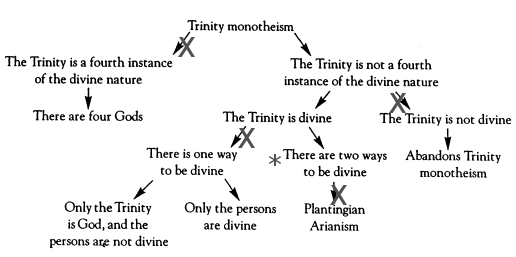 The Trinity Monotheist, they urge, should not make the inferences I put a "X" on, and should make her stand where I put the asterisk (*). In other words, Moreland and Craig want to say that there are two ways to be divine, yet this doesn't implicate them in any objectionable "Arianism". More on this next time.
So how do they head off the Quaternity problem? Simple. Only the Trinity is an instance of the divine nature, as the divine nature includes the property of being triune; beyond the Trinity "there are no other instances of the divine nature." (590) So if "being divine" means "being identical with a divinity" (i.e. being a thing which instantiates the nature divinity), then none of the persons are "divine". But they don't put it that way. They want to say that the Father, Son, and Holy Spirit are each "divine" in another sense, and they labor to make that clear.
Technorati Tags: William Lane Craig, JP Moreland, Trinity Monotheism, Leftow
Related posts: