In this post, I'll take a crack at summarizing a lengthy salvo against Trinity monotheism launched by Daniel Howard-Snyder. Dan is well known and respected for his work on the problem of evil and in theory of knowledge. He has a hard-hitting and thorough style, very Alstonian (which is no accident). Generally, Dan is a nice guy, with a good sense of humor to boot. But reportedly this picture was taken of him in his office when he was working on this article.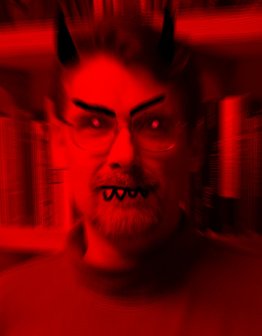 "Trinity Monotheism" (Philosophia Christi 5:2, 2003, 375-403) is long and in parts technical article in which he argues that this theory is an all-around failure. I'll do my best here to hit the highlights, dumbing down (hopefully accurately!) Dan's technically precise language.
Dan sets out what he calls the Challenge of Polytheism. This is: If the Father and Son aren't identical, and yet are each divine, why doesn't it follow that there are two divinities, that is, two gods? (377) Short answer? According to Moreland and Craig, there are two ways to be "fully divine". First, one may have the divine nature (God), and second, one may be a part of something which has the divine nature (the Father, etc.). (378-9)
Dan spends some time puzzling about how their Trinity monotheism could fit with their dualism (belief in souls, in addition to material things). Although they want to say that you and I just are certain souls (immaterial entities), no person of the Trinity is identical with any soul, and so presumably not with any entity at all. (383) This is just to say, that the Father, Son, and Holy Spirit are not things, but rather in some sense modes (my term – not Dan's or theirs) of a thing, namely, the soul God. That's right, they are minds, or rational faculties. And God is not, on their view, identical with any person; although it (God) is a soul in which persons or at least "consciousnesses" somehow inhere – that is, it has parts or quasi-parts which are persons. (383-4) Dan highlights other tensions with their dualism as well (383-5), but we need to move on.
Dan expresses numerous worries about their cat analogy (in the last post I put it in terms of a dog), and urges that the analogy does nothing to illustrate a truly orthodox trinitarianism, no matter how it is understood (he goes through several ways.) Basically, he doesn't know how such an analogy can help them to avoid both polytheism and diminishing the divinity of the persons. (386-90)
He also claims that the issue of a part/whole relation is a distraction. Just the Father (etc.) being a part – or something like a part – of the Trinity is not at all what makes the Father wholly divine. Rather, they want to say that the Father is wholly divine because he is omnipotent, omniscient, omnibenevolent and so on – because he has the divine attributes. (391-2; cf. 591 of Moreland's and Craig's chapter) They want to say that God has these attributes precisely because one or all of the persons do. Moreover, Dan complains, their idea that there are two ways to be "fully divine" remains unclear. (392)
Yet more objections from Dan:
By their own criteria, laid out elsewhere in their book, the persons are substances just as much as God is. (393-5) And yet, they (wanting to uphold the "Nicene" creed) deny that the persons are substances while affirming that God is.
Their claim that God/the Trinity "supports" the three persons is unclear, and the Cerberus example seems to be not of one dog with three minds, but rather, of three dogs with overlapping bodies. (396) Again, polytheism looms. This is all perhaps clearer with human siamese twins.

Eng and Chang here are two humans, not one. Call Chang + Eng – "Twinsy". Twinsy, if there is such a thing, ain't a human, although it would have two human parts. (396) One might reply that there are two persons in Twinsy, but that there's just one human being there, namely Twinsy. (397) But that seems wrong. If we separated Eng and Chang, we wouldn't annihilate a human (Twinsy) and create two new ones from its leftovers (i.e. Eng and Chang). Rather, we would be merely separating the only two humans and persons that were there all along. (397) We don't annhilate Twinsy, because there's really no such thing, and certainly no such human as Twinsy. Chang and Eng's mother, on their birthday, gave birth to exactly two (conjoined) offspring – not one or three.

Their second analogy – God supports the persons just as "our individual beings support one person" – also doesn't help us to understand what they mean by saying that God "supports" each of the three persons. (397-8)
In their view, God is not a person, in the sense of being numerically identical with a certain person, even thought it (God) has parts which are persons. So they want to say, for example, that each of the three is all-knowing. And they also want to say God is all-knowing, in that he has parts which are all-knowing. But Dan objects,


…there can be no "lending" of a property [i.e. a whole "getting" a property from one of its parts] unless the borrower is antecedently the sort of thing that can have it. …[Therefore,] Unless God is antecedently the sort of thing that can act intentionally – that is, unless God is a person – God cannot borrow the property of creating the heavens and the earth from the Son. …All other [statements involving] acts attributed to God [in the Bible] will likewise turn out to be, strictly and literally, false. (399-400)

On their view, a thing (God) can exemplify the divine nature without itself being a (identical to) a person. Nor can divinity include properties that require being a person, e.g. being all-knowing, being perfectly free. This, Dan argues, is "an abysmally low" view of the divine nature. (400) He adds,


If God is not a person or agent, then God does not know anything, cannot act, cannot choose, cannot be morally good, cannot be worthy of worship. This is the God of Moreland's and Craig's Trinity Monotheism." (401)

Ouch.

When Moreland and Craig say "there's one God" they don't mean what monotheists normally mean by those words.


If nothing could be a God unless the nature it exemplified included the property of being triune and lacked the property of being a person, then Christians and Jews would not be in agreement on this score [i.e. about there being one and only one god]. But they are. …[And so] Moreland and Craig offer us a version of Trinity Monotheism that is not a version of Monotheism.
These look like some tough hurdles to overcome. Can they be?
Next time: Craig fires back.
Related posts: