I've been reading
I Told Me So
(
review
) by
Gregg Ten Elshof
, a USC PhD who who teaches and chairs the Philosophy Department at my undergraduate
alma mater
. He's been thinking about this topic
for a long time
(
part 2
) and
so far, I really like the book
. It is clearly written, insightful, and he trains his guns on self-deceptions
by Christians
in particular. Some of it is directly relevant to things we've been discussing here.
One point he makes in chapter one is that we can easily deceive ourselves about what we believe. He gives the plausible example – many of us have actually known people like this – of a respectable, elderly Christian woman who believes that she believes all people to be equal in God's eyes, and yet her behavior clearly shows that she considers black people inferior to white people. (pp. 18-19) It's hard to admit you're an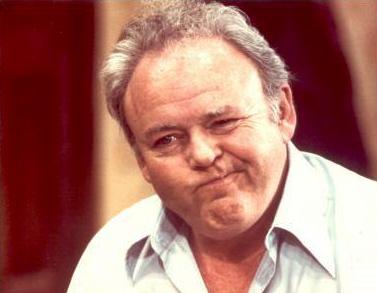 Archie Bunker when you're part of a social group where it is unacceptable to be such.
But what might this have to do with theological beliefs? Ten Elshoff says,
Every year, I'm given a fairly detailed statement of Biola University's doctrinal position. Each year, my continued employment is contingent upon my re-affirming belief in these various doctrines. I've got three small kids and a mortgage. Laurel, my wife, is a stay-at-home mom right now, and the job market in philosophy is atrocious. Of course I still believe all of this stuff! Imagine the stomach it would take to admit to myself and others that I don't believe these things anymore! It would mean the immediate forgoing of economic stability – not to mention a kind of alienation from a significant chunk of my social group.  (p. 19, link added)
Mind you, he's not confessing hypocrisy here. Rather, his point is that there are strong non-rational pressures on him to think and believe that he believes those things, whether or not he actually does. This is a real, and significant price that institutions like Biola pay for their apparent (and mostly real?) doctrinal uniformity, and Gregg has the guts to point out this somewhat uncomfortable fact.
Next time: Do evangelicals believe that Jesus is God?
Update: Finished the book, still liking it. It is very Willardite (Willardian? Willardesque?), and I mean that in a good way. (I can forgive the social trinitarian flourishes.) It is a great example of popular, applied philosophy, and you can confidently give it to any Christian friend. The writing was superb – not an ugly sentence in it – and it is spiced with interesting examples from literature and elsewhere. It is insightful about the human condition, and promotes both a proper understanding of and a proper pity for humanity. And, it is short. I can see occasionally re-reading this one, and I don't normally do that.
Related posts: