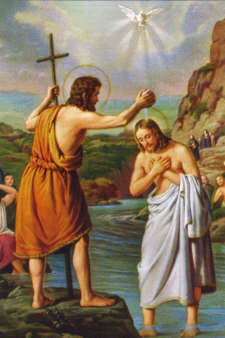 As I mentioned some time ago, the ESV Study Bible has a really bad entry on the Trinity, part of its appendix, "Biblical Doctrine: An Overview". Today, I note that it repeats something I've often seen asserted elsewhere.
Perhaps the clearest picture of this distinction and union [of the Trinity] is Jesus' baptism, where the Son is anointed for his public ministry by the Spirit, descending as a dove, with the Father declaring from heaven, "This is my beloved Son, with whom I am well pleased" (Matt. 3:13-17) All three persons of the Trinity are present, and each one is doing something different. (p. 2514a, emphases added)
This is an example of the sheer laziness and sloppy reasoning that so mars contemporary theology. Think about it – how exactly is the unity of the Trinity displayed here – either their oneness of an individual essence (godhead, divine nature) or the sharing of a universal property of deity? Where exactly do we see portrayed here the absolute equality of the three, or the "full divinity" of the Son and Spirit.
Would anything in this episode cause trouble for, say, an "Arian"? Nope. Tritheists? No – they should be OK with coordinated actions by the deities. Consider those unitarians who think the Holy Spirit is a force or divine action, not a person in his own right. They won't have any problem with this "descending as a dove" – which of course needn't mean that a literal dove (or something that looks just like a dove) dropped from the sky. Finally, consider modalists, who think that each person of the Trinity is really a personality of the one divine person, or a way that person acts. They'll just say that this omnipotent, divine person can easily pull off these three actions simultaneously: getting baptized as a man, speaking from heaven, and coming down from heaven to empower the man.
The one sort of Christian theology that would trip on this, would be a strictly serial modalism – which holds that God acts, in sequence, as Father, Son, and Spirit, but only one at a time. But who holds this? (Apparently, not even these guys – see #56.)
In sum, this episode, spiritually inspiring and important to christology though it is, is nearly worthless when it comes to arguing for or just finding evidence for any particular understanding of the Trinity. Theologians should be more nervous about just repeating these tropes. A narrative which is compatible with almost any view of the Trinity neither implies, asserts, assumes, nor even illustrates "the" catholic/orthodox/historical mainstream view of the Trinity.
Related posts: