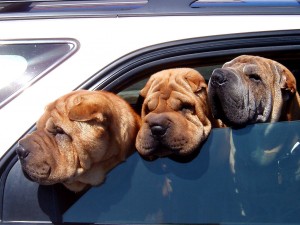 Our fictional story was necessary, to help us think about some important distinctions about referring terms.
It is easy to forget that "Trinity" was once a puppy, a neologism. But it was. It was born some time in the second half of the second century. We don't know who coined it, but the earliest surviving mention of it is by Theophilus, bishop of Antioch (d. c. 185). Commenting on the Genesis days of creation, in his remarks on the fourth day, he says that
…the three days which were before the luminaries [i.e. the stars], are types of the Trinity [Greek: triados, a form of trias], of God, and His Word, and His wisdom. ("Theophilus to Autolycus," Ante-Nicene Fathers vol. II, p. 101)
One could better translate triados here as Triad or triad. This would help us to not anachronistically import later ideas into the passage. What is this Triad supposed to be? A triad is just a threesome, a group of three somethings, not necessarily of the same kind or status, and not necessarily parts of any whole. Theophilus doesn't betray any hint here that he's introducing a novel term, which leads us to think that he or someone else in his circles has previously introduced it. But he tells us what this triad consists of: God, God's Word (i.e. the Logos of John 1), and God's "wisdom" – evidently the Holy Spirit – he seems to be following the other two-stage logos theologians here, and ultimately Philo. Is this Triad a god? It seems not. Thus, it can't be numerically the same as God, the one true god. God is a part or member of it – a part if it is a complex entity, a member if it is a mere plurality. Writing this letter to his learned friend, Theophilus tells him who his God is in book I – the Father. (See book I, chapters 4 and 14.) That is, he's a unitarian.
Similar considerations hold in the case of Tertullian, coiner of the Latin trinitas, writing around the year 200. But he says a lot more, and adds in some obscure speculations about God's sharing a portion of his substance with others. This recent book (reviewed here) argues that Tertullian is the first trinitarian, and that he gets his views to some extent from Egyptian and Greek precursors. I don't know exactly what to say about this last point, but in my view Hillar is mistaken in thinking that Tertullian is a trinitarian. But more on him in another post.
The point is a simple one – just because you see the word "Trinity" (or trias, trinitas) being used, you should not conclude, from that alone, that the user is a trinitarian. You need to figure out how he or she is using it. If it is clearly supposed to refer to the one true God, they're trinitarian. But if it is merely a way to refer to this group: Father, Son, and Holy Spirit, then they may not be a trinitarian. They might be a unitarian Christian, or they might just be confused!
Related posts: