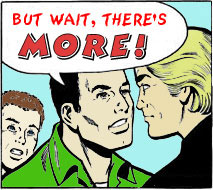 If there's at least one, there must be exactly three. Q.E.D.
The installment before the last, we saw that Richard Swinburne's social trinitarian theory is very carefully built so as to satisfy multiple demands of orthodoxy. There is, he argues, a contradiction-free, reasonable trinitarian theory, which fits well with the classic creeds. But we can do even better than that. In Swinburne's view, there's a plausible argument for the Trinity based on reason alone. Don't believe it? Oh, ye of little faith reason. Have ye not read the earlier Richard on this?
Swinburne believes it can be shown probable that a god exists (see here or here), and he also argues that "the most probable kind of God is such that inevitably he becomes tripersonal." (Swinburne 1994, 191) More precisely, he argues that if it is possible for there to be more than one divine person, there will of necessity be exactly three. A divine person, he argues, being all-knowing and perfectly good, will recognize the supreme value of love.
Love involves sharing, giving to the other what of one's own is good for him and receiving from the other what of his is good for one; and love involves co-operating with another to benefit third parties. (1994, 177)
And this latter kind of love is more valuable than solo-loving. Because of this truth, inevitably, a "first" divine person will inevitably produce another, then inevitably cooperate with that person to produce a third, and also inevitably, each of the three will freely allow the other two to continue to exist (being divine and thus omnipotent and perfectly free, each must freely give his permission if anything else is to exist). Thereafter, inevitably, each will cooperate in whatever either of the others does.
Why not a fourth? No qualitative difference in the loving would result therefrom, and so a divine person wouldn't, by its essential nature, inevitably bring about a fourth (etc.). And a divine individual can't be created by an act of will (rather than an act of essence), as this would imply that it could possibly not exist, which is incompatible with its being divine. (177-9) And these being acts of essence by all-powerful beings means there needn't be any time lag – if A essentially causes B, there can be no time at which A exists, at which A isn't causing B. And since we're talking all-powerful beings, who don't need to act by any body or other instrument, it seems possible that this causation is instantaneous, so that at every moment A is causing B, B exists at that moment. So don't go around trying to pin the old Arian "there was a time when the Son was not" on Swinburne.
In sum, if there's one divine individual, there must also be a Trinity of them. The tripersonal God is composed of these three, that is, by (in his words) this "collective".
He concedes that the above isn't a proof in a strict sense (i.e. an argument which will convince any reasonable person), as it depends on two less than perfectly clear and firm moral intuitions, namely (1) that lovingly cooperating with another to benefit a third is qualitatively better than loving on one's own, and (2) that adding a fourth to the mix does not enhance the lovin'. Fair enough – there are few proofs in philosophy. It is an attractive argument.
Technorati Tags: Swinburne, Trinity, social Trinity, social trinitarian, Richard of St. Victor, generation, procession, spiration
Related posts: