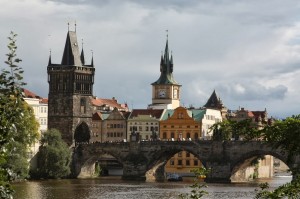 This episode is a recording of my talk on September 20, 2013 in Prague, Czech Republic, at the conference "Analytical Theology: Faith, Knowledge and the Trinity."
Our Czech hosts were Roman Catholic philosophers, interested in both contemporary analytic philosophy and early modern Catholic scholastic philosophy. It was an excellent conference, and we all enjoyed our conversations, as well as seeing some of one of the world's most beautiful cities, and some surrounding countryside. Special thanks to Vlastimil, Lukáš, and Petr and Daniel for their hospitality, papers, and conversations.
My talk is called "Tertullian the unitarian". Though he's the first on record to use the Latin word trinitas, I show that he was in fact a sort of unitarian, a kind I have elsewhere called "subordinationist."
Here are my conference slides, in case you want to follow along.
These ideas are relevant, of course, far beyond Tertullian. But here I want to set the record straight, because there's a lot of mistaken stuff out there about Tertullian, in realms such as apologetics, church history, and the history of theology.
You can also listen to this episode on Stitcher or iTunes (please subscribe, rate, and review us in either or both – directions here). It is also available on YouTube (scroll down – you can subscribe here). If you would like to upload audio feedback for possible inclusion in a future episode of this podcast, put the audio file here.
You can support the trinities podcast by ordering anything through Amazon.com after clicking through one of our links. We get a small % of your purchase, even though your price is not increased. (If you see "trinities" in you url while at Amazon, then we'll get it.)
Related posts: